No Nuclear, more Solar for Bengal
|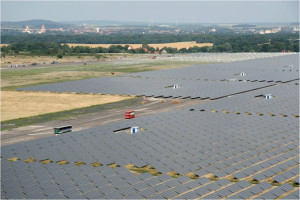 The West Bengal government wants solar power to fuel its energy needs but doesn't seem to be interested in nuclear as per reports.
 "The state government is opposed to setting up nuclear energy plants. Many other countries, like Germany, are phasing out nuclear plants. Nuclear energy is not risk-free and it has not been opted for by the state government," said state Power and Non-Conventional Energy Sources Minister Manish Gupta.
He was speaking at the 'Energy Sustainability Conclave 2013 : Energy Security – Empowering the Energy Future', organised by the Bengal Chamber.
"We need to make bold moves in renewable energy. We are trying to launch very large solar rooftop schemes in all the cities and going for more regulations to bring a solar power in new buildings, commercial buildings, complexes and industries. In that way we hope that once it catches on we can provide subsidies," said Gupta.
Nuclear power does have its safety issues. Read more on it here while Solar power is slowly building up in India.
India has a vast solar energy potential. About 5,000 trillion kWh/year of energy is incident over India's land area with most parts receiving 4-7 kWh per sq. m per day (JNNSM document).
Even though the days of sunshine are good enough, DNI (Direct Natural Irradiance) levels are affected because of dust and lack of adequate data also affect solar projects.
Reference and further reading;
Image credit: JUWI Group, available on Wikipedia