NGT Bans burning of tyres in Public Places
|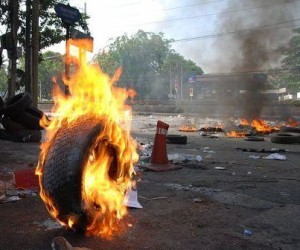 The National Green Tribunal (NGT) has banned the burning of tyres. The ruling will ensure burning of tyres in public places such as roads and areas around residential buildings.
Burning of tyres is a common practice in India especially during political processions and agitations. In most cases, it is the first step in displaying displeasure and agitation against authorities.
Burning tyres creates a toxic soup of pollutants that is a serious threat to clean environment. Miniscule particles released during the burning can settle deep in the lungs. Tyres contain 25% extender oils derived from benzene, 25% styrene, a derivative of benzene, and 25% 1,3 butadiene. – both benzene and 1,3 butadiene are suspected human carcinogens).
The decision came on a plea filed last year by Sahyog Trust and other advocates against the Maharashtra Pollution Control Board and Maharashtra state.
The NGT, in its order ordered compliance of the order by the three states – Goa, Gujarat and Maharashtra.
Severe penalties of Rs. 10crore and imprisonment for a period of three years can be attracted on violation.
It will remain to be seen whether the order will be fully implemented as its difficult to predict the nature of flash mobs in India where it is often difficult to prosecute such offences due to lack of evidence. Nevertheless, this is a step in the right direction.
The National Green Tribunal was established in 2010 under the National Green Tribunal Act 2010. Constituted for effective and expeditious disposal of cases relating to environment, is a specialized body equipped with the necessary expertise to handle environmental disputes involving multi-disciplinary issues. The Tribunal is guided by the principles of natural justice.
Reference and further reading;
State law can't prevail over central law on sand mining –National Green Tribunal
National Green Tribunal comes to the rescue of Yamuna
Environmental Jurisprudence in India
Reference-
PIB, Jagranjosh