November 2018: Monthly Electric Vehicle News Roundup
|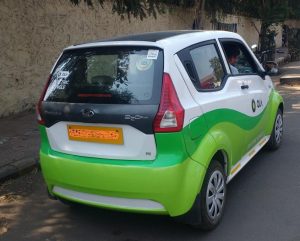 Tata Tigor launch -Cities with EV infrastructure considered
Tata Motors is considering launch of its Tigor Electric Vehicle in a phased manner to only those cities which have the charging and service infrastructure needed by Electric Vehicle (EVs), focusing on customer satisfaction. Tigor EV is currently available to selective EESL (Energy Efficiency Service Limited) employees. However it was spotted in Hyderabad streets with a yellow number plate. As the response to the talks that the company had with customers was good for Tigor EV the company plans to add electric powertrain to Zest, Bolt, Tiago also. The specifications or launch details of the commercial Tigor EV is not revealed yet.
Tesla's 'Partial Presence' In India By Next Year
Tesla, known for its electric cars, has expansion plans in Eastern Europe, North America, China and Japan and establish a partial presence in Africa and South America. Musk also hinted at a partial presence in India by next year and further expand by 2020. However after the 2017 reports about Tesla reaching out to Indian Government for expansion, there had been no visible activity. With 30% electric mobility target by 2030, government in the center is under pressure from various segments for electric vehicle policies, while the state governments are introducing their own policies and plans for EV promotion.
New Electric Mini in 2019 says BMW
The German automaker, BMW, is now investing millions in battery pack production in Germany, as it plans to foray into electric vehicles, with the new Mini in 2019. The first ever all-electric Mini comes after years of several Mini electric concepts by the company. Once produced, the Mini will be the last electric vehicle from BMW, before it switches to its 5th generation power train. As for the production, the Mini will be manufactured in England and China, and its battery packs will be produced in Germany and the electric motors will be made in Landshut.
Lamppost electric vehicle charge points in London
Char.gy, in partnership with Southwark Council has launched the first electric vehicle (EV) lamppost charge point in London, publicy accessible as it is set to install 50 open access public charge points catering to needs of residents of some areas in London. This facility of lamppost charging points heralds a new era in EV charging. The flexible pay-as-you charge is activated via Smartphone's browser application which processes tariffs and payments and helps locate nearest point.  The hardware utilizes existing street infrastructure across Southwark, by attaching its chargers to lampposts, avoiding the need for additional cables to be laid.
VW prepares to increase electric car sales
With emissions rules becoming more stringent in wake of the diesel emission cheating scandal, Volkswagen struggling to make its combustion-engined vehicles comply with them is getting ready to increase electric car sales.  Conversion of Emden and Hannover factories to build electric cars will be considered says Handelsblatt. VW Passat is the latest passenger car that Volkswagen is building at Emden but the shift of customers towards SUVs, prompts a review of the factory's future.  This group making multi-brand cars would also review its plan for new Skoda plant outside of Czech republic says Handelsbatt, the German daily.
Electric Vehicle revolution in India
Increasing pollution levels, dependence on fossil fuels and their increasing prices have pushed the country to brink of using internal combustion engine vehicles; shift to EVs is the need of the hour. Acknowledging this government is also coming up with electric vehicle policies. On these lines, Mahindra is testing its Treo e-rick which would follow its e-Alfa Mini. Bajaj is also coming up with its RE electric rickshaw. Auto giant Ashok Leyland is testing all-electric bus Circuit F. Tata, Renault, Maruti are all testing their own electric vehicles. A drastic shift to EVs especially in the public transport seems to the need of the hour.
Electric Vehicles in India- Drive and the way forward
Carbon emissions in India are a major air pollution solution and 11% of that is caused by transportation. Many vehicle drivers and owners are ready to switch to Electric vehicles if that could reduce pollution. Though the EV manufacturers and sellers await a policy for roadmap on EV ecosystem, the much awaited FAME-II to promote EV usage has been postponed as the focus now has shifted towards battery price reduction rather than EV subsidies. While the EV market in India is expected to be lead by two-wheelers, EV charging infrastructure is necessary to boost EVs in India. The government besides encouraging people to set up EV charging station is also in considering the usage of existing petrol pumps for EV charging.
Honda Electric Vehicles in India by 2023-2024
Electric vehicles from Honda Motors are expected in Indian market by 2023-2024. The company's EV rollout plan is expected in 2019 and 'B' segment vehicles are expected in India. Honda which lost its competitive market in small and diesel fueled car segments due to its late entry there wants to avoid similar situation with EVs.  To make the EV affordable and accessible, the company is considering localization of the hybrid solution in India. However it is notable that it is still late as its competitors have already announced their go green plans.
15 million electric Vehicles from Volkswagen
Volkswagen plans to build 15 million electric vehicles over a long stretch of years. Batteries for 15 million electric cars to be built on MEB (Modular Electric) platform alone, have already been sourced said Herbert Diess, CEO. The company is in process of selecting places for assembly.  Transitioning of some of its existing plants to all-electric is also likely. The battery pack will be costlier than the IC powertrain in the future and so higher production volumes could lower the costs said the CEO.
China serious about leading the world to Electrified future
China is dead serious about leading the way to an electrified future to help reduce oil import dependence and reduce pollution. Chinese market, is already the largest for EVs and by 2025, China's leaders want 7 million cars sold every year or about 20 percent of the total, to be plug-in hybrids or battery-powered. This resembles the cap-and-trade system for carbon emission, failing which companies could face fines or assembly line shut down. Many Carmakers are teaming up with the local manufacturers to produce cars eligible for credits. Besides subsidies, the government also has other levers to keep up the EV demands.
Electrification no cure for global warming: IEA
Increased use of power plants for charging the electric vehicles offset the reduction in emissions from them says International Energy Agency's (IEA) Energy Outlook. More electrification could result in peak oil demands. Electrification is needed for deep de-carbonization as it is easier to de-carbonize the power sector however it would only be effective if power sector moves towards zero emissions says Greenpeace air pollution unit's senior Analyst Lauri Myllyvirta. Renewable energy sources like wind, solar are playing their part in meeting the energy demands. However to improve energy efficiency and to reduce power sector emissions, electrification should be part of the comprehensive package of policies say IEA.
Global oil demand -Efficiency measures, new supply sources required
Though electric vehicles could cut oil demand to lower than previous expectations, without investments in new production there could be a crunch says IEA. The demand is forecasted to increase around 1 million barrels per day average (bpd) till 2025 and steadying at 250,000 bpd to reach peak 106.3 million bpd in 2040. To stem the demand increase, efficiency measures are required. China, India led developing nations would stem the global demand growth while more than 400,000 bpd reduction is expected each year till 2040 in advanced economies. Irrespective of demand peaks, new supply sources are needed says the agency.
Mumbai gets India's first EV Billing Meter
Paving way to a convenient EV charging experience, Magenta Power, a pioneer in EV charging infrastructure in association with Maharashtra State Electricity Distribution Company Limited (MSEDCL) launched the first EV Billing Meter to support adoption of Electric Vehicles. Indian government has been pushing EV agenda and states like Maharashtra, Karnataka, Andhra Pradesh, Telangana published their EV policies with subsidized energy rates. The few EV charging stations that have come up are connected to base meters meaning consumers have to pay higher prices. With support from Maharashtra government and the MAITRI program and installation by MSEDCL, India's first EV billing meter is installed in Mumbai, Maharashtra. Magenta Power plans to deploy new EV billing meters and new charging stations on important highways.
Electric cars in California to reach 500,000 mark
Of the 1.02 million Electric cars sold in the US since 2011, California has 491000 and is expected to cross 500, 000 mark by November end says a report from Veloz, a consortium of regulators, utilities and advocates of electric cars. 70% of the counties in California failed the air quality standards despite having so many electric cars and the cleanest power grid in the country. More than 10% of the sales in the state is Electric cars and almost half the electric cars sold in the country are registered here. In spite of this big milestone Veloz's mission is to promote more Electric Cars in the state.
S. top electric car sellers band together for tax credits extension
U.S. top electric car sellers Tesla, General Motors, and Nissan have banded together with the conservative Christian Coalition and Center for Climate and Energy Solutions to support restructuring and extension of tax credits for plug-in electric vehicles. Each automaker's first 200, 000 electric car buyers get up to $7500 tax credit under the current structure, to help them keep the costs comparable to the gas-powered cars. Bills have been introduced in both the houses to extend the credits and remove the 200,000 mark. Tesla, GM who entered the market way back and are close to the 200,000 cars await the extension before expiry this year.
Documents reveal Subaru Crosstrek Hybrid's range
25 miles of all-electric range unadjusted, is the best case of the upcoming Subaru Crosstrek Hybrid as revealed from the EPA's urban dynamometer driving cycle results in documents submitted to CARB (California Air Resources Board). Much lower actual EPA range is expected owing to adjustment factors. Crosstrek Hybrid developed by Subaru in conjunction with Toyota is expected to have an electronically-controlled, planetary continuously variable transmission besides Subaru's standard all-wheel drive and high ground clearance.  The vehicles' specs are not released yet but it is expected to have plug-in capability a basic requirement nowadays for a vehicle to be called hybrid.
Electrification of vehicles alone may not solve pollution problem
As per Annual World energy outlook of International Energy Agency (IEA) the pollution reduction due to electric vehicles is offset by the power used for their charging. While major focus is on heating systems and transportation electrification to meet the pollution deadlines of 2015 Paris Agreement, this is however expected to increase energy demand from current 19% to 65% in future. To reduce pollution, policies for emission reduction in power sector are necessary as the emissions from the utilities have increased at about 2.3% a year with coal power plants being the major contributors. To meet climate targets, investment in sustainable energy technologies is needed says IEA.
Faraday Future – Rise and fall
A small automotive startup company based out of California, Faraday Future created a lot of buzz in 2015 stealing talent away from Tesla, Apple, SpaceX and many more. The company had big plans of coming up with luxury electric SUVs faster than Tesla and building a factory in Nevada desert. The journey has not been easy for this company backed by Chinese billionaire Jia Yueting as it ran into several organizational and financial issues. In addition to its employees and executives, the company seems to have also lost its dream of building a factory in the desert.
Singapore gets its first commercial DC fast-charging service
ComfortDelGro the Transport giant has set up Terra54 DC fast charger for public use at its Braddell Road Headquarters. This is capable of charging 2 vehicles at a time and takes only about 30 minutes to charge an electric car. Excluding Tesla, this charger is compatible with BMW, Hyundai Ioniqs and Renault electrified models. Per kwh charging costs around 40 cents. Drivers would have to apply for access pass with ComfortDelGro Engineering to use this 24 hour service. App based availability checking and payment services are available.
Startup Uniti plans to build Electric cars in UK
A Swedish startup Uniti displayed its Uniti One at a London event. This two seater all-electric concept car has large touch screen display and twin-joysticks for driving. However this feature is unlikely in the production units governed by legal standards. Uniti regards itself as a technology company and feels its value is in its digital IP, transferrable across borders. Uniti which has plan for producing cars in the markets that it enters, interestingly plans to manufacture cars in UK post Brexit. Beta test of ten Uniti One cars in UK are planned later this year before their release to public.