Pakistan inaugurates first Solar Power Park, Biggest Globally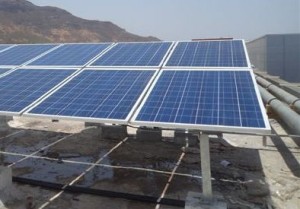 Pakistan has inaugurated the Quaid-e-Azam Solar Park project, which is going to become the first large-scale solar power project and marks the country's progress into the sphere of renewable energy.
The project will generate 100 MW of power by 2014 end which is expected to scale up to 1,000 MW ending 2016. The project is made up of 400,000 solar panels and cost about $131 million. O
The Prime Minister of Pakistan, Nawaz Sharif even announced plans to further scale the project to 1,500 MW capacity just after inaugurating it.
"If you come here after one and a half years, you will see a river of solar panels, residential buildings and offices — it will be a new world," stated site engineer Muhammad Sajid, pointing towards the surrounding desert.
Speaking on the occasion, the PM said, "The dearth of electricity has pushed the country backwards and its entire industry and agriculture sector have suffered immensely."
It is a joint venture project of the government of Punjab, Bank of Punjab and TBEA of China. The Pakistan-China Economic Corridor has so far pumped $33 billion into the economy and is an example of the very close friendship between the two countries. The 2,100 km Pak-China Economic Corridor would include special economic zones, a railway system and model city, airport and free port at Gawadar, Karachi to Lahore Motorway and many more projects.
Pakistan has a huge potential in solar energy and much of the country receives 4.5-5 KWh/m2/day of solar radiation with many parts of Balochistan getting between 6.5-7 KWh/m2/day.