River Linking projects: Creating Erroneous Artificial River systems or creating opportunities for development?
|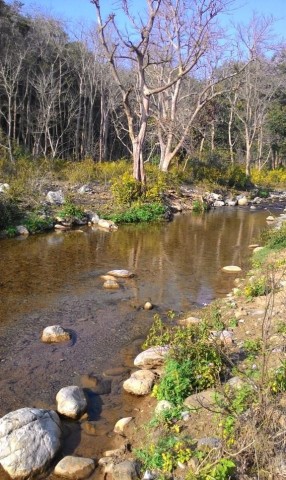 Indian rivers are known for cultivating world's most populated regimes. They have been revered as Goddess for their larger role in replenishing life within their streams and plethora of services in the form of ecosystems flows. However, following the quest for crosscut developments, the consideration to other services has been subjected to a skewed vision.
Despite regular reporting by Nitin Sethi, a well-known reporter with the Business times and general concern by conservationist, the policy is hell bent to make the Ken-Betwa link, as an experimental playground for larger experiments on the Mega River-linking Project of India. Ken and Betwa rivers are two tributaries of Yamuna-Ganga river system, arising from the pristine forest of Central India, a land known for Kamasutra-theme Khajuraho temples and one of finest Tiger Reserve Habitat, Kanha National Park.
Rivers are not just freely accessible irrigation flow. It has a larger role which demands to look beyond the role of provisioning services like irrigation, sand and fishes. It caters to supply groundwater recharge, draining excess water discharge pressure and avoid flooding as a regulating service. Rivers are also known to support the whole set of life in the riverine ecosystem which ends in form of food chain and food resource to humankind. Who will look on these regulating and supporting ecosystem service? There are few more aspects for consideration.
There is a greater need to recognise the role of Forest ecosystem for ensuring a sustained flow of water through conservation of soil and moisture regimes. Such river-linking projects are likely to results in either fragmentation of forests or their submergence. The forest around Ken-Betwa river is known for breeding and providing diclofenac-free zone for India's Gyps Vulture. It is also known as one of the finest cases of restoration of tigers and tiger habitat. There is also a high need to argue whether wildlife (all sorts of life from Tigers to insects, amphibians, reptiles) are a service provider or service user in the whole question. What if they are not there, whether forests will provide water in same way as it is providing now. Such scenario would also require them to consult as one of the major stakeholders. Are we keen to seek their arguments?
Development arguments are mostly driven by their economics. Even if such arguments are considered, the economic efficiency would also need to look, consider and value the bunch of Ecosystem Services provided by the Ken River. The Economics, a language spoken by developers, can also be used by decision makers for enhancing conservation efficiency. We need electricity, roads, water to irrigate our food crops. However, bringing in Economics can help in making ecological decisions and evaluating the trade-offs. It can help them in valuing, outweighing benefits in the different scenario and enabling wise use of ecosystems by tapping the wide array of the services from provisioning, regulating and biodiversity supporting roles of the riverine ecosystem.
The present recommendation by Wildlife Board, poorly represented by the experts, is quite on expected lines, has given their nod for the first river-linking project under the vision of creating Mega river linking project. The policy argues that it need to experiment before rejecting new avenues which could be a right approach otherwise. However, we need to take lessons from our pasts.
Whether large irrigation projects has been successful in the provision of the promised benefits? One of the significant findings by the author in India's largest Irrigation project is that such landscape alterations are likely to create the huge demand for outsourced ecosystem services. At one hand it diminishes traditional wisdom to handle natural resource scarcity, on another hand, it tends to rise conflicts between the parties. The agreement does not foresee the manifold increase in demand on both sides. Homegrown demand on service provider side could compel them for premature annulment of the accords.
Humans are doomed to get into water-war. The present scenario has failed to consider natural river system as most energy efficient system of water and service flows. We have not handled our natural waterways like Kaveri, Godavari, Krishna, Mahanadi, Yamuna, Sutlej river basin and we are busy fighting and killing each other on one hand and one another hand the contrary, we want to create our own false and fake river systems. There is a need to manage the agriculture production systems based on existing resource base instead of creating False, inefficient and Artificial river systems. God bless us some sense!
Author:
Ritesh Sharma, a forest economist by profession.
Also, read Ken-Betwa river link gets wildlife nod
Disclaimer: The points raised here are the personal view of the author, it has no relation to the projects/ portfolio handled by the author in present or past capacity.