SABMiller India showcased the results of its Water Resource Management Project
|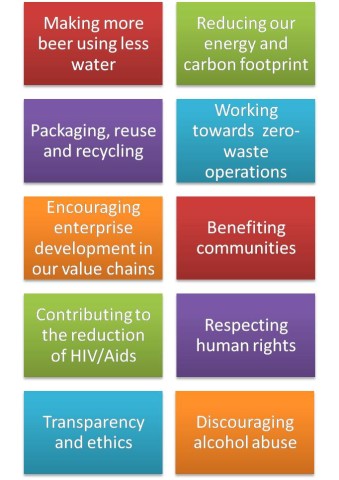 On 18th Feb 2013, SABMiller India showcased the results of their collaborative Integrated Water Resource Management project in partnership with the International Crops Research Institute for the Semi-Arid tropics (ICRISAT).
SABMiller plc is one of the top brewers in the world headquartered in England. SABMiller India Limited is a Bangalore based Indian subsidiary of SABMiller Plc and also an important alcoholic drink producer in India. There are a total of 11 breweries located across different parts of India making it the second-largest brewer in India. SABMiller India have a market share of 24% with Rs. 2453 crores of turnover in year 2010-11.
SABmiller is engaged in several sustainability initiatives throughout its operation across the world. However, all group companies and the associated companies of SABMiller's worldwide operations follow 10 sustainable development priorities. These are discouraging alcohol abuse, making more beer using less water, reducing our energy and carbon footprint , packaging, reuse and recycling, working towards  zero-waste operations, encouraging enterprise development in our value chains, benefiting communities, contributing to the reduction of HIV/Aids, respecting human rights, transparency and ethics.
Aligned with SABMiller group's sustainable development priorities, Integrated Water Resource Management project was launched in the year 2010. The project was about Integrated Genetic and Natural Resource Management approach to bring about sustainable management of water and enhanced livelihoods within the watersheds of four selected villages in the state of Andhra Pradesh. These villages are Fasalvadi, Shivampet, Venkatakishtapur and Chakriyal, covering 2526 households with a total population of 12,940 on an area of 4500 hectares.
Key achievements   
Additional water storage capacity of more than 30000 m3 leading to groundwater recharge of about 75000m3
Increase in moisture content by 10% in the case of black soils and 5 % in case of red soils.
Increased crop yield – Chickpea by 35%, Cotton 12%, Paddy Grain 15%, and Sugarcane 8%.
Increased income of Rs 50,000 per family per annum benefitting 52 families.
Total profit made by Self Help Groups over a year is Rs1,20,000.
257 liters increase in milk production per day.
With the implementation of simple water conservation technologies like improving agricultural productivity by adopting rainwater conservation and harvesting techniques, capacities building of farmers to develop sustainable water management practices have helped in the successful completion of this project.
As per the report published on SABMiller India official website, the results are impressive. It is reported that the on an average, chickpea (legume) grain yields have increased by 35%, cotton by 12%, paddy grain and sugarcane by 15% and 8% respectively. Further, the income for small and marginal farmers has increased by Rs 4730/hectare (20%) for chickpea, Rs 5730/hectare (11%) for cotton, Rs 4270/hectare (10%) for paddy and Rs19360/hectare (8%) for sugarcane (Mean values).
The source of this information is SABMiller India official website.
Please click here to read full report