September 2019: Monthly Electric Vehicle News Roundup
|
Porsche's first electric vehicle
After a long period of research, Porsche is going to reveal the first post-combustion car in 2020. This is a 720 HP with 774 lb-ft. In 2.6 s and it achieves 60 mph. The maximum speed is 161 mph. Turbo S will cost about $187,610. Taycan has turned 7:42 lap of the Nurburgring. It can achieve a distance of 2,100 miles in 24 hours (90 miles per hour). Turbo costs $153,310 with 670 mph and 626 lb-ft. It's official driving range is 280 miles with an 93.4 kWh Li-ion battery pack on the European driving cycles.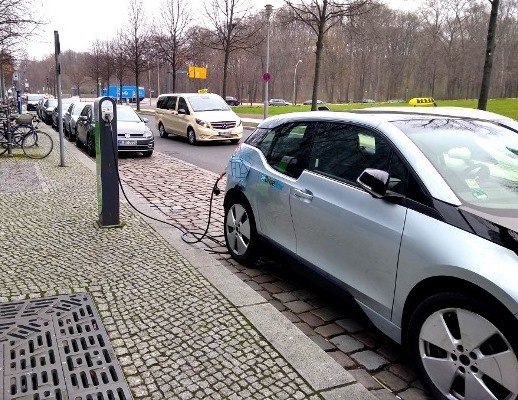 2. San Diego electric day
San Diego electric day is celebrated on September 14. It is the largest EV test drive event in this region during the National Drive Electric Week. It is in its seventh year now and each year it is growing. Due to more no of models being available in market nationwide; drivers and residents are getting attracted to EV. One of the factors is that its cost is coming down with an improved performance and advancement in technologies. Today in this region, 43,000 EV's are available with 1700 public charge station make it America's easiest place to drive an EV.
3. Renault's next plan
Renault has recently announced its upcoming EV. This will be launched in about 5 years. It will cost up to $11000 as announced by Renault CEO Theirry Bollore. Although automakers are concerned about making EV cars for a long time and Zeo electric hatchback is very popular in Europe. Now they are aiming to make low-cost EV the advanced features. Renault CEO also said that the company is making money by making electric cars in moderate volume and terms, but now they are projecting to make low-cost EV. They have also plans in place in order to make short term rental programs for affordable EV's. Renault has also starting selling the KZE in China on a variant of Kwid hatchback.
4. Honda's E Electric Car
Honda's new EV is officially announced. It is available in Europe but not in the USA. It has a killer look and specified for the urban area. If you charge it one time you can drive up to 137 miles. Its battery power is 35.5kwh. Surely it will compete with Renault Zoe. Honda's EV supports up to 75 kW (not officially announced). This EV gives up to 152 HP and 232 foot-pound torque, if you want a cheaper EV, then 132 HP may suit you. It uses advanced technologies like camera mirror with two six-inches screens. Honda's assistant is included by which you can control certain things. They have advanced technology and superb quality.
5. Tesla's Masterstroke
One of the leading car companies, Tesla Motors has decided to make car recharge station. They need to recharge electric car so they decided to do so. In fact, they have started work in Northern Ontario. These stations can be used to recharge the cars made from Tesla. No other car can be recharged here. Tesla Motors has already told that they need no profit from supercharger business. But charging is very slow, they are focusing on someone who can keep cars for a long duration to charge them.
6. Hyundai Ola Bond
OLA, the Indian cab giant has formed a bond with Hyundai. The most famous car company Hyundai is all set to deliver their car to OLA India. Hyundai is looking forward to bring affordable cars for the local cab giant OLA.
These vehicles will be electrically powered. They will be value for money product. They are specially designed for Indian buyers. OLA will buy those products in 2022-2023. The estimated prices are 10 lakh INR. Hyundai has already done an investment of $300 million. They will be looking for further investment in making electric car batteries as they have a bigger market.
7. UK Research combines battery tech
Boosting of electric cars is proceeded by UK research. By 2050, the greenhouse gases are cut off by government to zero. That indicates there would be a rush for electrical cars. For making them more irresistible & affordable faraday institution awarded 55m euro to six British universities. Smart electrodes will provide greater performance with high quality.
Dr. Greenwood revealed the main aim of the project to the sky news; it was to make batteries cheaper, more durable, and high energy producer. The business minister Nadhim Zahawi committed the government that all cars will essentially achieve zero-emission by 2040.
8. The High Power Renault Kwid in Electric model
Renault launches the hatchback Kwid EV in the electric segment. Now, the Renault put his steps in the electric segment with Kwid which was its most popular small car in the market. Renault is ready to launch this electric Kwid in 2022 and give more power to the electric cars market. This electric car having a powerful 26.8kWh battery which gives a fixed power to magnet synchronous motor and this makes the 44PS of maximum power with the 25 Nm of peak torque.
The car's top speed is 105kmph and the battery is the fast charging capacity of 30 to 80 percent in 30 minutes. The standard chargers make the full charge in 4 hours. This was a very best hatchback car for the peoples who are waiting for buying the electric car.
9. To develop electric vehicles, Mahindra Electric and Dassault Systemes form a partnership
The Dassault Systèmes and Mahindra Electric Mobility has deployed SIMULIA family of applications through the digital simulation for all of the existing Electric Vehicle models. They have expanded the product portfolio of the electric existing models of Mahindra & Mahindra. The Dassault SIMULIA application is powered by the 3DEXPERIENCE. This platform delivers realistic simulation applications. It will enable the users to explore the real-world working experience of their product under varying usage conditions.
10. The governments of Delhi to take steps for promoting the use of electric vehicles
The Delhi government is drafting a new policy for the electric vehicles. Under the new policy, all vehicles will be 25% electric by 2023 and the government will provide thrust towards the creation of new jobs in driving, in selling the electric vehicle, financing sector, servicing and in the charging of electric vehicles. The government will import electric buses for public transport. For this, the central government of India will also be trying to adopt electric vehicles in regular use like Europe and China.
11. Increment the use of electric cars with the help of UK researchers
The use of electric cars is the aim of the government to reduce greenhouse effect up to zero in 2050. Electric vehicles very cheaper and will become more advance in the future. Six universities in the UK have won a big amount of £55m from the Faraday Institution. With the help of this amount, the researchers will try to find new technology in lithium-ion batteries, with powerful new electrodes. Researchers informed that they are using the different materials to make the "smart electrodes" for greater performance and to reduce the greenhouse effect.
12. Sales of Electric Car is falling down in China after Cuts Subsidy by government
The sale of the electric-car is falling down for the first time in July in China after scaling back the purchase subsidies. Sales are declining in China and in North America, but it is expected to rise in Europe in large scales. China is the biggest producer of the EVs and it was a big market for electric vehicles, but now it has displayed a slowing down due to the reduction in EV subsidies and the other reason is the cooling economy that's also weighing on a consumer' buying decisions.
13. The best lubricating Mobil EV for electric vehicles
ExxonMobil launches the Mobil EV which is a series of lubricants for the electric vehicle. This makes the reduction in gearboxes go away and this was designed to protect the gears for a longer service life of your electric vehicle. The Mobil EV will support the battery of the electric vehicles to travel the long distance and this will extend the life of the equipment and promote safer operation of the electric vehicle. The Mobil EV Therm is a series of thermal management fluids which will be formulated to help the vehicle to efficiently remove the heat and it will increase the equipment life such as batteries, electric motors, and power electronics.
14. Indian Oil installs a 1 GW electric battery charging station for the electric vehicle
The oil refiner corporation Indian Oil is planning to unveil an electric charging station. The Indian Oil Corporation Ltd will make a 1 GigaWatt electric plant to charge the electric vehicle batteries and the company will form a partnership with an overseas start-up using non-lithium ion batteries. These EVs are more efficient, very less complex, it has very advanced technology and more economical. The company will be manufacturing the battery to the scale of minimum 1 GW and it was growing in a GW scale in the next phases to be built in beginning with the 25 MW or at 50 MW and ramped up in future.
15. Rivian lands new fund for Electric vehicle startup
The Rivian is creating a top electric vehicle with the battery-powered pickup and SUV and it will make plans to launch its electric vehicle in the U.S. next year. The Rivian received million of the equity investment from Cox Automotive. Ford is also investing a big amount in Rivian for working together to develop a new powerful Ford electric vehicle. Amazon led consortium is also investing $700 millions in Rivian.
16. Porsche will increase the stake in an electric car making Rimac Automobili
Porsche is increasing its stake in the electric vehicle components and in the hyper car company Rimac Automobili. This increased stake by Porsche is to invest more fund into the electric mobility, and mostly in the battery technology which is a growing up sector in the world. Porsche, which only introduced its all-electric Taycan sports cars and, will invest a big fund which is more than $6 billion into electric mobility through the year 2025. The automaker spent more than $1 billion in developing the Taycan.
17. The Seat Mii is the cheapest of VW's electric vehicle
The Seat has announced the price of the Mii electric car in Germany. This was a very small electric car of the Spanish Volkswagen subsidiary which will be available at a basic price of the 20,650 Euros. The Seat Mii has an output of 61 kW. The sprint to 50 km/h should succeed in 3.9 seconds with this electric car. According to the Seat, the charging time is to 80% in 60 minutes and the power consumption of the car is 12.9 kWh as per 100 km. The electric Mii will be available for the customer in the middle of this month.