The 'Green' Shade of Eco-Friendly Paints
|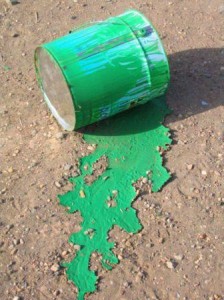 The paint industry has developed myriad chemicals to enhance the product shelf life, color, texture and other properties. Currently, these paints are made from a few chemicals that are especially suited for this industry. Many of these are volatile organic compounds (VOCs), which vaporize as soon as they are exposed to the atmosphere. They also contain heavy metals such as arsenic, lead and chromium. VOCs such as ethyl acetate, glycol ethers, and acetone are organic chemicals that are mainly used as solvents for conventional paints. Once they enter into the air we inhale, they can gain entry into our lungs and create a toxic effect on our bodies. The odor emanating from these paints can also be quite suffocating.
These chemicals have a variety of effects on people who are exposed to it, depending on the duration of exposure. These effects can vary from being mild, minor irritation in the eyes, throat, nose or skin, to severe cases of headaches, nausea and dizziness that can also result from prolonged exposure to the chemicals in conventional paints. Some long-term effects include liver and kidney damage, respiratory issues and even cancer. These paints not only harm the human body, but also the environment. The by-products and waste of the synthetic chemical industry is detrimental to the environment and it leaves an immense carbon footprint.
Eco-friendly Alternatives
The potent health effects of these paints have made paint companies reconsider the composition of their products. This has led to the development of a new range of eco-friendly non-toxic paints. These eco friendly paints aim to reinvent conventional paints so that serious health and environment implications are avoided. The eco-friendly paints available in India can be classified into the following three types:
Zero-VOC paints: The level of VOCs in these paints is so low that they can be termed as 'zero-VOC paints'. As per the EPA* standard, the total VOC content should be less than 5 gram per liter of paint.
Low-VOC paints: As specified by the EPA, these paints can have VOC concentrations ranging from 5 to 200 gram per liter of paint.
Natural paints: These paints are made of natural compounds such as tree resins, water, plant oil, essential oil and natural dyes. They do not contain any VOCs. Water-based paints do not have an odor, while oil-based paints have a smell.
*Since India does not have guidelines on such non-toxic paints, we have considered the standards formulated by the Green Seal Standard for Paints & Coatings and the US Environment Protection Agency (EPA).
Tech Specs
Technical comparison between conventional and low VOC paints:
| | | |
| --- | --- | --- |
| Parameters | Conventional Paints | Low/Zero VOC Paints |
| VOC content before tinting (gram per liter) | 250-800 | 50 for Low VOC5 for Zero VOC |
| Color ranges | All colors | Lighter colors |
| Texture | Flat or Glossy | Flat only |
| Base | Oil or Latex | Latex (Oil in rare cases) |
| Odor | Suffocating | Less or None |
| Cost per gallon | INR 720-3,000 | INR 1,800-4,200 |
| Performance over 20 years | 4-5 coats needed | 1 coat is enough |
Source: EPA
The following suppliers sell eco-friendly and non-toxic paints in India: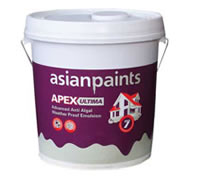 Asian Paints: Asian Paints is India's largest paint company that provides paint products for personal, industrial and automotive needs. Asian Paints began its journey into non-toxic paints by removing lead and heavy metals from its paints. The company has also substantially reduced the VOC content in its paints to comply with international standards, as specified by the Green Seal Standard for Paints & Coatings. For example, its Ace Exterior Emulsion (White) has 22.22 gram of VOC per liter of paint, which is substantially less than the international standard of 50 gram of VOC.

Berger Paints: Berger Paints is another leading paint company that has a broad customer base in India. Through their Green Horizon endeavor, the company seeks to protect the environment by producing better products. Berger Paints has removed lead, mercury and chromium from its paints, which are toxic to the human body. The company has also greatly reduced VOCs (8.4 gram per liter in its Breathe Easy Emulsions) and decreased the content of aromatics so that their products have zero negative health impact. Berger Paints has also diversified into water-based paints, custom-made for the pharmaceutical industry. Their Breathe Easy Emulsions are also water-based.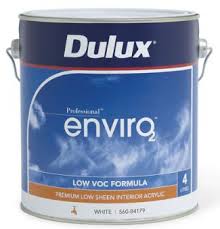 Dulux: Dulux is a UK-based multinational company that has several production units in India. The company complies with the highest environmental standards on paints, especially in the area of VOC content. Dulux promotes water-based substitutes actively through its website and other promotional activities. The company offers a wide variety of water-based products such as Paint Mixing Kitchen, Endurance Silk, Magic White Silk, Quick Dry Gloss, Watershield Exterior Satin, and many more.
Kansai Nerolac: Kansai Nerolac is now the second largest player in the paints market in India. The company had switched to lead-free paints years ago due to the several health hazards associated with lead. All its manufacturing plants are ISO-14001 certified, which helps the company to achieve sound environmental performance. Recently, Kansai Nerolac launched a line of water-based, low-VOC paints that has the National Test House (NTH) certification.
It is clear that eco-friendly and non-toxic varieties of paints come at a higher cost than regular paints, but have a longer lifespan and do not have negative also benefit you and your family's health, as well as the environment.
Author Bio –
Arushi Prakash is a Chemical Engineering graduate from BITS-Pilani. She was awarded the prestigious UGC-NRC Fellowship 2013 at the Institute of Chemical Technology. Arushi is a regular contributor on innovative eco-friendly ideas at Ecoideaz.com
Factfile –
http://www.asianpaints.com/green_assure/index.aspx?src=gacc
http://www.bergerpaints.com/about-us/green-horizon.html
http://www.dulux.co.uk/help-advice/environment/
http://www.nerolac.com/low/aboutus/environment
http://www.poplarnetwork.com/news/low-voc-paint-more-expensive-cost-benefit-analysis
http://www.epa.gov/ttn/atw/183e/aim/fr1191.pdf
http://www.greenseal.org/GreenBusiness/Standards.aspx?vid=StandardCategory&cid=13
http://en.wikipedia.org/wiki/File:GreenPaintBucketRome.jpg