Thyagraj Stadium in Delhi becomes green
|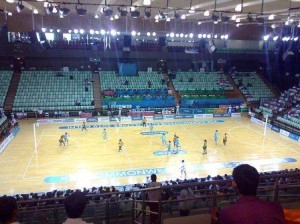 The Thyagraj Stadium built during the Commonwealth Games has become the first green stadium in the country as per reports.
The CII- Indian Green Building Council (IGBC) gold rating certificate was given to Chief Minister Sheila Dikshit.
Speaking on the occasion, Dikshit said the recognition was reflection of Delhi's leadership role in taking pioneering initiatives to comply with eco-friendly norms that would encourage other states in the country go "greener way".
"The need of the hour is to focus on promoting eco- friendly initiatives like ensuring energy efficiency and water recycling," Dikshit said. She congratulated the entire team of CPWD for constructing and designing Thyagaraj Stadium as a "green stadium".
Spread over an area of 16,000 square metres, the Thyagaraj Stadium near INA market in South Delhi was built with green building technologies and eco-friendly material. The stadium was equipped with a gas panel for energy supply. Currently solar energy is being used for lighting purposes.
The stadium features effective water management systems such as rainwater harvesting and sewage treatment with two lakh litres a day capacity. The multi-purpose air conditioned Indoor stadium has a seating capacity of 5,823. The stadium was built at a cost of Rs 297 crore.
According to the Indian Green Building Council, "A green building is one which uses less water, optimises energy efficiency, conserves natural resources, generates less waste and provides healthier spaces for occupants, as compared to a conventional building." Read more on Green Buildings
IGBC has also recently launched 'IGBC Green Existing Building O&M Rating in April 2013. By applying IGBC Green Existing Building O&M criteria, existing buildings can be sustainable over the life cycle of the building. Read more on it here.
Reference and further reading;
Read more Three Primary Rating Systems for Green Buildings in India