US scientists create GM Tulsi
|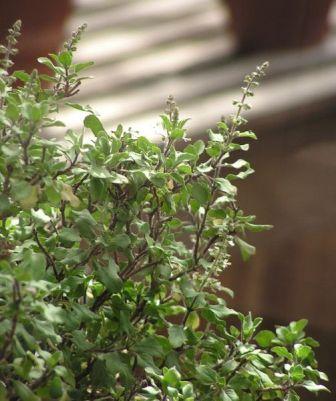 Scientists at Western Kentucky University, US have created a genetically engineered Tulasi to enhance its pharmaceutical value.
Tulsi or Basil is used to produce eugenol, a compound that has pharmacological value which can help in treating breast cancer. Tulasi is a medicinal plant and has anti-cancerous compounds called metabolites.
Tulsi leaves have been used since ancient times in Ayurvedic medicine and it is known to promote the longevity of life.
Basil juice is also beneficial in the treatment of ringworm and other skin diseases.
Also helpful in curing respiratory disorders, fever and common cold and cardiac disorders.
It is an erect, much branched shrub, abut 30–60 cm tall with hairy stems and simple opposite green or purple leaves that are strongly scented. Leaves have petioles and are ovate, up to 5 cm long, usually slightly toothed. The two main types cultivated in India are green-leaved (Lakshmi tulasi) and purple-leaved (Krishna tulasi).
Further reading on GM crops