Watch your step…by which I mean your carbon footprint
|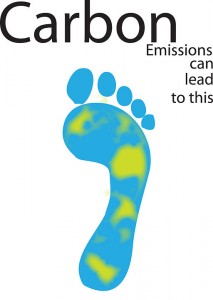 During the late 90s and early 2000s it became incredibly important for companies to be seen to be green; more and more businesses tried to reduce their carbon footprint by a significant amount and received plenty of kudos for their efforts. However, when the banking crisis hit in 2008, and the subsequent global economic downturn took hold, there was considerably less emphasis placed on a company's green credentials, and businesses of all sizes began to reduce their investments in the environment.
Due to this it's more important than ever for companies to make an effort to help the planet, and because of the perceived financial difficulties involved in going green, companies are getting plenty of plaudits for their trouble.
It's not too hard for a company to make a big dent in its carbon footprint right now; the country is making cuts to its economic spending, and businesses can do this too in ways that help the environment.
For example, reducing the amount of travelling for employees will not only cut back on the cost of travel, but also reduce the company's impact on the planet. If meetings in other cities are absolutely necessary, scheduling them all on one day will save the company money on expenses; reduce the amount of wear and tear on a pool or hire car; and avoid wasting some fuel. Public transport might be beneficial in some cases; particularly if only one employee is traveling.
Likewise making a move to alternative energy sources can show your company in a positive light, as well as reducing your running costs. For example, Dulas offer Commercial solar PV systems that will help organizations to reduce business' energy bills; and though there is an initial outlay involved, solar panels should be considered an investment that could pay for themselves six or seven years down the line.