Welspun Energy to build 150 megawatts of solar plants in Punjab
|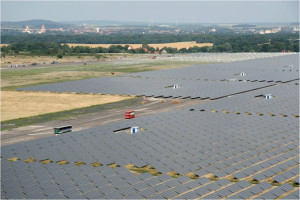 Welspun Energy Ltd., one of India's largest photovoltaic developer has agreed to develop 150 megawatts of solar plants in Punjab state. This will increase the clean energy capacity to twice its current size (Read more on- Punjab to see investments of Rs 2500-3000 crore in solar energy in the coming years)
The company will invest 13.5 billion rupees ($217 million) in order to complete the projects by 2017, Welspun Energy Managing Director Vineet Mittal informed.
That's in addition to a 35-megawatt plant under construction and scheduled to be finished in September, he said.
The agreement will help Punjab's power distribution utility get enough clean power to meet mandatory renewable-energy targets, Mittal said. The state electricity regulator in August ordered the utility to comply with rules to get at least 0.13 percent of its power from solar after missing its target for two years because of a shortage of capacity in the state.
The New Delhi-based developer, a unit of Leon Black's Apollo Global Management LLC-backed Welspun Group, has 166 megawatts of wind and solar projects operating. Welspun Energy plans to more than triple that to 600 megawatts by the end of the year, Mittal said.
Welspun Energy also holds the distinction of developing the World's 2nd largest solar project of 151 (DC) MW at Neemuch, Madhya Pradesh. Its 55 (DC) MW Rajasthan solar project is India's largest solar project to date and has the distinction of being the fastest executed solar projects of this scale.
Image credit: JUWI Group, available on Wikipedia