3 Tips for Building an Eco-Friendly Deck
|
Are you thinking about adding a sustainable deck to your outdoor space? Building an eco-friendly deck can help increase the value of your home as more homebuyers embrace environmental-friendly lifestyles. Read on for three tips for creating an eco-friendly deck to get started.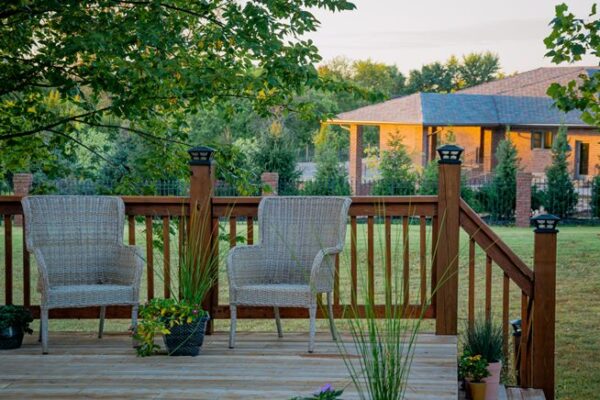 1. Choose the right materials
The first step to building an eco-friendly deck is picking suitable construction materials. You should spend time researching and analyzing the various materials to select the best one to use for your ecological deck project. Here are some quality and sustainable materials you could choose from.
a) Natural wood
Natural wood is one of the most popular decking materials, thanks to its durability, cost-efficiency, and longevity. It is also recyclable and fits well with most eco-conscious building designs. However, it requires regular sealing and staining to maintain it in excellent condition.
b) Composite deck material
This deck material is made from plastic and recycled wood. It has gained popularity in recent years thanks to its longevity and little or no maintenance. The plastic in composite boards reduces rotting and insect infestation, making it an excellent wood alternative. However, composite deck materials are more expensive than wood, so they may not be ideal when working under a tight budget
c) Pressure-treated lumber
Most people prefer using pressure-treated lumber decking material as it is easily accessible and often lasts longer than untreated or natural wood. This is because it is preserved with chemicals, enabling it to resist insects and rot. Pressure-treated lumber is also less expensive than wood. However, this material is dangerous to the surrounding environment as the chemicals used to preserve it are often toxic and could be harmful when indirect contact with humans or pets. Avoid installing pressure lumber materials directly into the soil as they could damage nearby soil and plants.
2. Pick an environment-friendly design
Complement your sustainable building materials by selecting an eco-sound deck design. Ascertain that the ecological deck design has minimal impact on your home's carbon footprint by considering:
Consider the soil conditions where you want to place your deck. Different types of soil will require different solutions for maximum stability. For example, helical piles for decks can be used for many types of soil, or you can opt for traditional concrete posts if your soil conditions allow for it.
The deck's position. Consider your home's space to choose a spot protected from the sun. The deck should also leverage the shade from existing trees to avoid investing in more structures.
Your decoration strategy. Choose environment-friendly decoration options like solar lighting, recyclable decor, and injecting plants.
3. Hire the right builder
Instead of opting for DIY deck construction, consider hiring an expert deck builder. A professional builder can help you choose proper sustainable deck materials. They could even mix and match fabrics to help you build a unique deck. Thanks to their many years of experience, an expert builder can ascertain that the project is done correctly while providing tips for caring for the deck to boost its lifespan.
Conduct research, read online reviews, and seek recommendations from people who have built eco-friendly decks before to pick the right builder for your project.
Endnote
Building an eco-friendly deck does not have to be complicated. Pick suitable materials and an eco-sound design and hire the right builder to install a sustainable deck and patio.
Author:
Catherine Park