Ten Indian spices which have medicinal values
|
If you look closely inside your kitchen, there is a lot you can find. Be it the taste of your favorite recipe or a range of memories. However, what many of us don't realize is that most Indian kitchens are also a mini dispensary. There are several spices and ingredients in Indian cuisine which do much more than add taste to our food. There are several common ailments like cold, headaches, upset stomach, or stomach-ache which can be easily treated with these spices.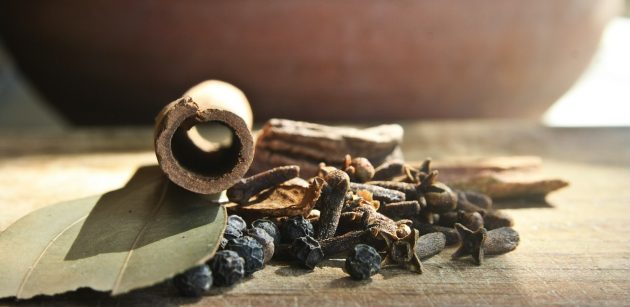 Here is a list of 10 popular spices and their medicinal values:
(1) Haldi or turmeric: One of the most common spices used in Indian households, turmeric's scientific name is Curcuma longa. According to Ayurveda, turmeric paste is applied to cuts and burns as it is an antibacterial agent. Drinking turmeric with milk is known to cure a cold and boost immunity. This super spice is actually a root. It is replete with anti-carcinogenic, anti-inflammatory, anti-bacterial and anti-fungal properties. Thanks to its inflammatory properties, turmeric can reportedly delay the onset of type 2 diabetes in bodies of pre-diabetes patients. It is used in face packs to make the skin more radiant.
(2) Jeera or cumin: An essential ingredient in tempering or tadka used in pulses, jeera or cumin's scientific name is Cuminum cyminum. Not only is it rich in antioxidants, but it also has antibacterial and anti-inflammatory properties. Boiling a spoonful of cumin in water and drinking it can provide relief from indigestion, bloating and acidity. It's an excellent source of iron and dietary fibre, and is good for your immunity system.
(3) Ajwain or carrom seeds: The scientific name of ajwain is Trachyspermum ammi and is usually used in curries and pickles because of its aromatic flavour. Ayurveda recommends the consumption of ajwain as it is good for one's digestive health. They are rich in vitamins and antioxidants. These properties make it an effective home remedy in case you are suffering from acidity or indigestion. It is also used to treat common cold as it helps in the passage of mucus.
(4) Harad or myrobalan: The scientific name of harad is Terminalia chebula. Ayurveda dubs harad as the 'king of spices' as it strikes a balance between the three doshas of the human body – kapha, pitta and vata. It is also known for its rejuvenating properties which is why its usage is recommended for used good skin and hair. Found mostly in hills and forests of Assam and West Bengal, harad is known for reducing inflammation and improving brain function. Harad is also known to combat acid reflux.
(5) Kari patta or curry leaves: An unmistakable part of south Indian cuisine, curry leaves' scientific name is Murayya koenigii. Some of the nutrients which they are rich in are vitamin C, A, B, and E and, phosphorus and carbohydrates. Being rich in folic acid and iron, curry leaves are used in treating anaemia. It is also found to help fight diabetes as it regulates the body's insulin levels. In addition, curry leaves are known to be a great source of antioxidants and hence are effective in controlling high cholesterol.
(6) Kali mirch or black pepper: The scientific name of black pepper is Piper nigrum. Apart from being a good source of flavonoids, antioxidants and, Vitamin A and C, it is known to prevent cancer as it is rich in piperine. The piperine present in black pepper is also good for improving digestion. It is also known as an important ingredient of home remedies used to treat cough and cold because of its antibacterial properties.
(7) Shahad or honey: Honey is more than just a sweetener. It's being used for centuries for its antiseptic and antibacterial value. It is a go-to remedy if you are looking for a quick fix for cough or a sore throat. Honey is also used on the face to smoothen wrinkles.
(8) Adrak or ginger: The scientific name of ginger is Zingiber officianale. Most of us are familiar with how ginger is used in Indian homes during winters to keep one from getting a cold or cough. Giger-infused tea and herbal concoction are tried and tested home remedies for cold weather. It is also known to be a remedy against nausea and upset stomach. Moreover, it can do wonder for your gut health. Ginger is also found to be useful in treating menstrual cramps and headaches because of its anti-inflammatory properties.
(9) Saunf or fennel: Known scientifically as Foeniculum vulgare, saunf or fennel has several medicinal benefits. In Indian homes, fennel is often eaten after dinner as a mouth freshener. It is good for digestion and its phytonutrients can help with asthma. The essential oils present in fennel seeds help in purifying blood.
(10) Laung or clove: The scientific name of this spice is Syzygium aromaticum. Apart from being rich in antioxidants, cloves boost immunity and also combat radical damage. Clove's germicidal properties make it effective in treating ulcers, toothache and sore gums. The oil obtained from the clove is rich in eugenol, which improves digestion. Moreover, this Indian condiment also improves metabolism. Because of its anti-inflammatory properties, it is used in treating cold and sore throats.
The aforementioned facts show that you don't always need to resort to allopathy to get rid of common ailments. So, remember the next time you get a toothache or cold, rather than popping an antibiotic, just go to your kitchen and pick out a home remedy.
Disclaimer: The above article is not intended to offer medical advice. It is shared for information purposes. Consult a medical practitioner for any medical advice. Ayurvedic formulations should also be taken after consultation with a registered Ayush practitioner.