Five easy breakfast recipes for a healthy start
|
They say a good breakfast is the start of a good day. Indeed, the first meal of the day is important as it provides the nourishment your body needs as it was working even while you were sleeping. While we rest at night, our body keeps on functioning and thereby uses a lot of energy. A wholesome breakfast in the morning not only replenishes our energy levels, but also the body's reserves of calcium and protein. Hence, a hearty and healthy breakfast is important as it fuels your body.
Cooking a healthy breakfast is not rocket science and there are several dishes which can be rustled up in a few minutes. Here are five easy breakfast dishes which will ensure that you get your daily dose of nutrition:
(1) Pho: This Vietnamese noodle soup is a dish made of rice noodles, soup, meat, herbs and spices like cinnamon, cardamom and star anise. The dish shot to prominence in the 20th century and was popularized across the globe by refugees especially after the Vietnam War. You can easily rustle up this dish in under 30 minutes and warm your body in winters. It is made by simmering a bone broth containing beef, garlic, onion, noodles, ginger and spices over low heat. There are several health benefits of having this dish for breakfast. As the bone broth is rich in collagen and glucosamine, it promotes joint health. The dish also has heaps of ginger, which make it nutritious because of the vegetable's antioxidants and anti-inflammatory properties. Plus, the herbs and vegetables make the noodle soup rich in fibre.
(2) Shakshuka: Shakshuka is Arabic for mixture and is a popular breakfast dish that originated in Israel. It is widely eaten in North Africa and the Middle East. The dish consists of poached eggs covering a layer of sautéed bell peppers and onions mixed in a tangy tomato sauce. A variety of spices like cumin, salt, nutmeg, paprika, pepper and herbs add to the taste of the dish. It's a protein-rich dish that can be adapted by vegans and those on a paleo diet. The one-pot dish helps you load up vitamin C and potassium from bell peppers and the goodness of onions on a plate.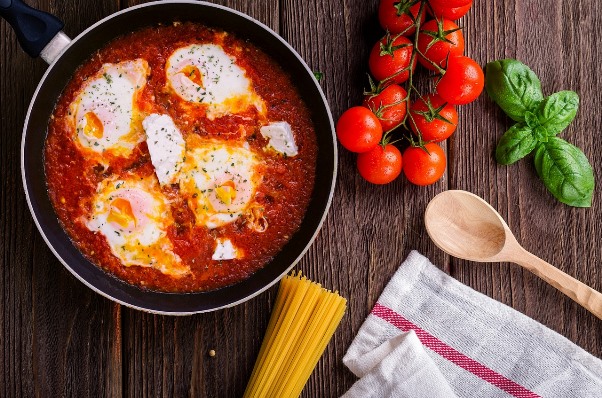 (3) Hafragrautur: If you are bored with having your regular cereal every morning, here's how you can jazz up some basic amaranth to get a wholesome breakfast. Hafragautur is an Icelandic dish that involves amaranth being cooked in meal and then topped off it with fruits like banana and blueberries. For adding to its nutritious value, you can sprinkle some pumpkin or chia seeds too. It's better than eating processed cereal or oatmeal. Talking about the nutritional value of the dish, most of us are aware of amaranth's super food status. This gluten-free grain is rich in fibre and protein, apart from various other nutrients. It is also useful in controlling inflammation, lowering cholesterol levels and helps in weight loss. The milk, potassium-rich banana and pumpkin seeds will ensure that you get you the daily dose of nutrition with this meal.
(4) Nasi Lemak: A Malaysian dish, nasi lemak is a popular breakfast dish that can be customized. In this dish, fragrant rice is cooked in coconut cream and pandan leaves, which give it its distinct flavour. It is served along with a spicy sauce called sambal and garnishes like cucumber, anchovies and roasted peanuts. Over the years, the recipe has evolved to include meat and other variants. These variants have only boosted nasi lemak's popularity in other Asian countries like Singapore, Thailand, and Indonesia. The coconut cream in the dish helps in controlling cholesterol and hypertension. Plus, it is also rich in lauric acid which boosts your energy levels.
(5) Idli and Upma: Idli is one of the most popular healthy breakfast staples of South Indian cuisine, but are now widely eaten across the country. Served with piping hot sambhar and coconut chutney, idlis are made of a batter of ground rice and yogurt which is fermented overnight. The batter is then put in an idli mould and steamed. Apart from being low in calories and good for weight loss, idli is a fermented food and hence is rich in vitamins and is beneficial for gut health. Another breakfast staple from South India which can be cooked within minutes is upma. Upma is made from roasted semolina and vegetables. As a final touch, the dish is tempered with mustard seeds and curry leaves. This is another low-calorie dish which is great if you are watching your weight.  It is rich in healthy fats, vitamin B, iron and protein.
Given the facts, it is alarming to see so many people skipping breakfast either to follow a fad diet or due to their hectic schedules. If nutritionists and dieticians are to be believed, skipping breakfast does more harm than good. They claim that missing this important meal can lead to weight gain, irritability, osteoporosis, mood swings, and hormonal stress. One should have a wholesome breakfast every morning to stay healthy and build immunity.