Go green with Kiima's eco-friendly deodorant applicator and refills
|
Environmental problems like climate change and rising pollutions have garnered attention worldwide and are triggering changes in how people consume products, especially those made of plastic. The effect of plastic on the environment is forcing many personal care brands to change their production process and opt for more sustainable and eco-friendly procedures. Kiima with its eco-friendly deodorant applicator and refills is among the companies which are the frontrunners in this segment.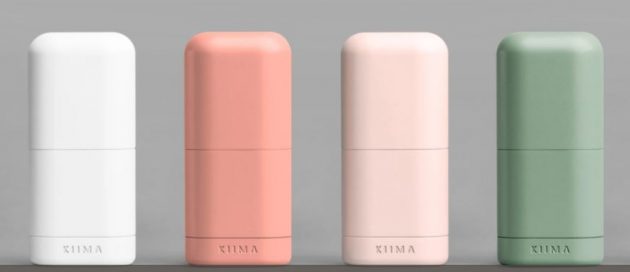 Ever since it was first used commercially in manufacturing in the 1950s, plastic production worldwide had increased from two million tons to a staggering 380 million tons till 2015. In the last 70 years or so. 8.3 billion tons of plastic have been produced across the world. Every year, 13 million of this plastic ends up in oceans. The careless disposal of plastic is a serious problem with several far-reaching effects. The mineral water bottle you just used will take hundreds of years to decompose.
Kiima's eco-friendly deodorant applicators has been designed in Canada and the company aims to launch more such products which bring down the popularity of single-use plastic. The product is the brainchild of Quebec-based entrepreneur couple Simon Lemire Dupont and Jenny Essiambre. According to the company's estimates, around three million deodorant sticks are used in North America and Europe. Their use has only been increasing over the last few years. Useless after being used by a person, the plastic deodorant sticks end up in landfills and their disposal only leads to further wastage.
Driven by finding a solution to his environmental concern, the couple researched for over two years before coming up with a sustainable alternative for deodorant sticks made of plastic. Even the factory in Quebec's Granby, where these products are manufactured, complies with various environmental norms. 
Kiima's eco-friendly deodorant applicators is very easy to use. Take the pod and fit it into the detachable bottom of the applicator. Next, lock it and start using it. The refillable deodorant applicator sports a patented design that was conceived in Quebec. The Kiima applicator is designed in a way that the process respects the planet and its inhabitants.
The deodorant pods are made via a natural zero-waste process. Hence, every time you use a Kiima's eco-friendly deodorant applicator refill, you prevent a plastic applicator from going to waste after a single-use. The applicator is available in six colours – black and sand beach, blanc cotton, manarola rose, rosewood, vert forillon and bleu glacier. 
There are several ways in which using this product can help reduce pollution, even if it's one step at a time. For starters, it comes with a reusable, refillable, and sustainably produced applicator. Most applicable brands available in the market are meant for single-use. Such products promote wastage and thereby strain the world's limited resources.
Next, zero-waste pods can promote optimal usage. If you order this product online, you will receive it in a package that is bio-degradable and recyclable. Right from the Kiima's warehouse to your home, the logistics promote sustainability. The compact solution reduces pollution. Lastly, Kiima's recycling initiatives ensure that the product does not contribute to landfills.
One of the reasons why the company has been making waves with its product is that it believes in eco-friendly products that work to reduce pollution. Not only is this product natural and biodegradable, but it's vegan and cruelty-free. 
Essiambre and Dupont drew inspiration for the product's name from three sources. The first one was the Tanzanian volcano Kilimanjaro and the second was the Greek word 'Kyma' that represents a wave. The third inspiration was the Basque word 'Kima' which translates to a flower. The entrepreneur couple said that when the three inspirations are combined, one gets a path that the world should follow so that the environment can sustain, thrive, and blossom.
Kiima has tied up with five eco-friendly brands that manufacture the scented pods which go inside the deodorant applicator. They are Green Beaver, The Unscented Company, Pretty Frank, Kisupu, and The Green Emporium. Of these, Green Beaver and The Unscented Company are based in Canada, while Kisupu and The Green Emporium are located in France. Pretty Frank is based in the USA.
The company is trying to gather more funds for their initiative and have launched a crowdfunding campaign on Kickstarter. Contributors will get to choose from six different packs. The starter pack will contain two refill pods and the deodorant applicator, while the family pack would comprise 15 refill pods and three applicators. Staring on August 11, 2020, the online funding campaign would end on October 31.
If you are looking for other brands that use a sustainable production process, you can check out Meow Meow Tweet's product range. The company makes zero-waste deodorant which is not only eco-friendly but is also vegan, natural and cruelty-free. They also do not contain toxins and are sourced ethically. Another brand that has been making waves with its sustainable practices is Ethique. The brand's zero-waste shampoo bars vegan and cruelty-free. They come in eco-friendly packaging, are free of toxins and are sourced ethically.