National Mission on Enhanced Energy Efficiency
|
The National Action Plan on Climate Change (NAPCC) outlines eight missions including National Mission on Enhanced Energy Efficiency (NMEEE). NMEEE operates under the Bureau of Energy Efficiency (BEE), a statutory body under Ministry of Power, Government of India. NMEEE is an integrated approach for climate change mitigation through energy efficiency measures.
The Prime Minister's Council on Climate Change approved draft principles of the NMEEE on August 2009. The Union Cabinet approved its implementation framework on 24th June 2010 with dedicated funds in tune with Rs. 235.35 crores.  It is estimated that the NMEEE will enable about 23 million tons oil-equivalent of fuel savings- in coal, gas, and petroleum products by 2015. The mission will commence implementation from April, 2011 under the flagship of the 'Perform Achieve and Trade (PAT)' initiative.
Background
India's developmental priorities are based on economic and social development that offers high value environment and ecological balance to the people. Climate change can alter the distribution of a country's natural resources and adversely affect the livelihood of the masses. Considering the issue of climate change as a national agenda, Indian government initiated concrete in house solutions with Prime Minister's National Action Plan on Climate Change (NAPCC) in June 2008 with integrated, multi-pronged and long-term strategies for climate change mitigation.
As per the National Green House Gas Inventory, the direct CO2 emissions from the industrial sources accounted for nearly 31% of the total CO2 emissions from the country (data for the base year 1994, NATCOM). Intensive energy usage is the main reason for this emission and contributing to climate change. It is further accounted that Energy usage in industries causes 60% of the total CO2 emission (NATCOM, 1994). From the above numbers, it is cleared that high energy intensive sectors contribute considerable amount of GHG emission and it has become the base for the proposal of National Mission on Enhanced Energy Efficiency under the National Action Plan on Climate Change.
History/ Energy Efficiency Legislation in India

The Energy Conservation Act 2001 (EC Act 2001) has already led some regulations for improving energy efficiency in the industrial sector. The EC Act provides comprehensive legal mandate for the implementation of energy efficiency measures through the institutional mechanisms of the Bureau of Energy Efficiency (BEE- the Government of India set up Bureau of Energy Efficiency on 1st March 2002 under the provisions of the Energy Conservation Act 2001) and central and state level agencies. The EC Act identified fifteen energy intensive sectors as Designated Consumers. (Silent features of EC Act 2001)
Following sectors have been identified as the Designated Consumers – Aluminium, Fertilizers, Iron and Steel, Cement, Pulp and Paper, Chlor-Alkali, Sugar, Textile, Chemicals, Railways, Port Trust, Transport Sector (Industrial and services),  Petrochemicals (Gas Crackers, Naptha Crackers and Petroleum Refineries), Thermal Power Stations (Hydel power stations, electricity transmission companies and distribution companies), Commercial building or establishment. (EC Act 2001, The Gazette of India)
Objectives of NMEEE
Para 4.2 of the National Mission on Enhanced Energy Efficiency mandates following objectives;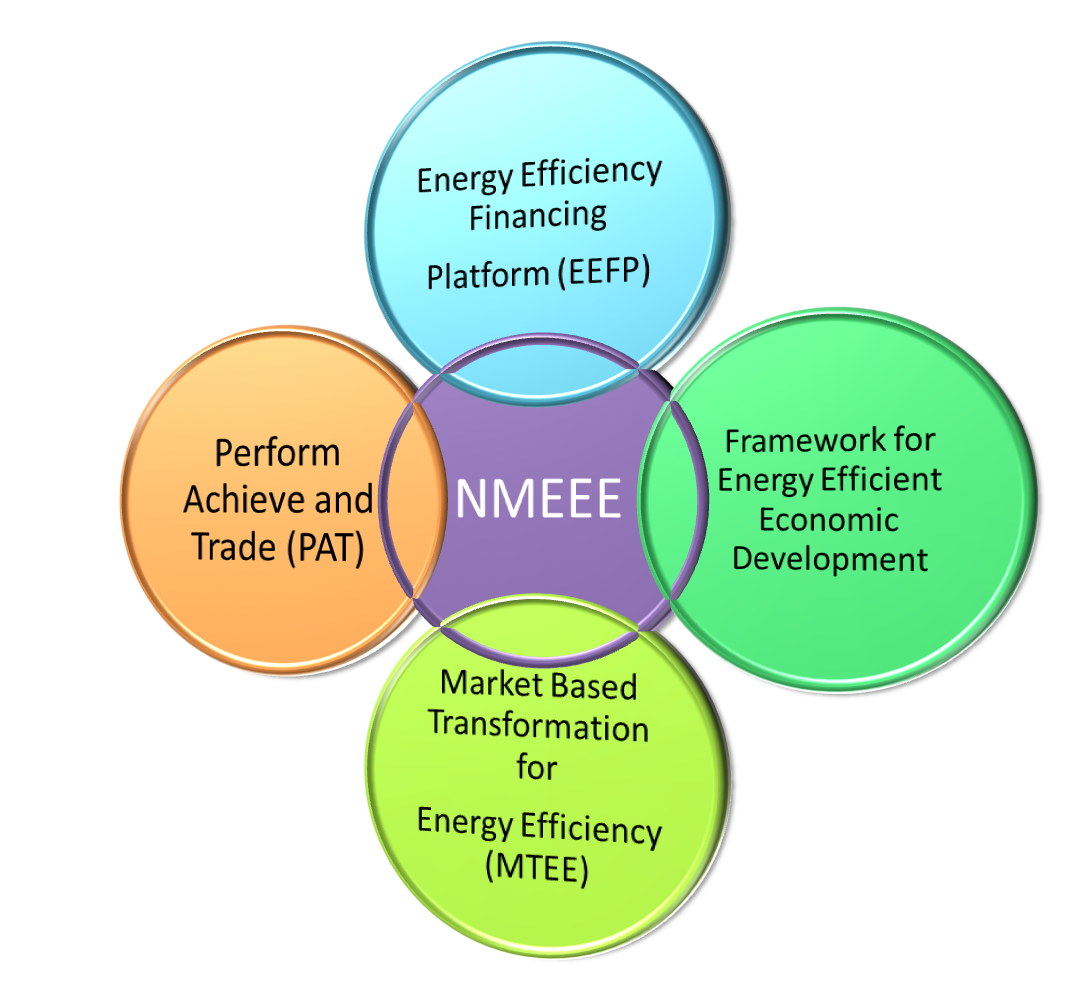 A market based mechanism to enhance cost effectiveness of improvements in energy efficiency in energy-intensive large industries and facilities, through certification of energy savings that could be traded. (Perform Achieve and Trade)
Accelerating the shift to energy efficient appliances in designated sectors through innovative measures to make the products more affordable. (Market Transformation for Energy Efficiency)
Creation of mechanisms that would help finance demand side management programmes in all sectors by capturing future energy savings. (Energy Efficiency Financing Platform)
Developing fiscal instruments to promote energy efficiency (Framework for Energy Efficient Economic Development) Market-based approaches to unlock energy efficiency opportunities, estimated to be about Rs. 74,000 crores
References
Bureau of Energy Efficiency
Ministry of Power, Government of India
Ministry of Environment and Forest, Government of India