October 2018: Monthly Electric Vehicle News Roundup
|
Maruti to test 50 Prototype electric vehicles nation-wide
Following its announcement to release electric vehicles (EVs) by 2020, Maruti Suzuki has flagged off the field testing of 50 prototype EVs. These vehicles prototyped in Japan, built in Gurguram, Haryana will be tested across multiple terrain and climatic conditions in India. With this effort, besides validation of EV technology in India, Maruti aims to gather inputs to help build reliable as well as sustainable EVs for the country.  The first EV from Maruti is likely to be based on Wagon R as these test vehicles are based on 2018 Suzuki Wagon R.
Tesla accelerates construction of Shanghai factory
Tesla announced a deal to build new Gigafactory to output battery powered vehicles in the order of 500,000 in China, the largest market for Electric Vehicles by far. With this deal the automaker aims to not only get government incentives but also avoid import duties. Tesla which has already increased the capital of Tesla (Shanghai) Co. Ltd to $680 million plans to raise around $5 billion to invest in Shanghai plant. The increasing trade tension between China and U.S. is also pushing the automaker to speed up its factory construction works.
All new Bollinger B2 pickup truck announced
Even as we await the all-electric Bollinger B1 sports utility truck, Bollinger has announced its new all-electric, all wheel-drive, street-legal pickup truck Bollinger B2. B2 boasts a lot of storage space and can haul around 5000 pounds.  Similar to B1, it comes with a 120-kWh battery pack, in-wheel portal gear hubs, and two motors besides hydropneumatic suspension. Deposit free reservations are open for this truck which would be built alongside B1 in 2020. Bollinger also revealed about relocation to Michigan to take advantage of automotive network there.
Electric Royal Enfield Bullet 350
Fred Spaven, a British engineer decided to realize his dream project "Charging Bullet" when he got hold of a 1961 Royal Enfield Bullet 350 used on Indian rugged roads. He fit the vehicle with a 48V DC motor, controller and Battery management system. This electric bullet weighing same as the original, outputs similar to it minus the note. Spaven plans to take this e-Enfield on a 1200 mile trip from Lands' End to John o'Groats. He has teamed up with filmmaker Finn Varney to make a documentary of this road trip and the conversion process. The documentary is expected next year.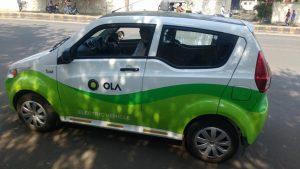 Fuel Cell electric car from Mercedes-Benz
Mercedes-Benz will be soon handing over its fuel-cell electric car GLC F-cell model which combines fuel cell with battery chargeable via wall socket. Owing to the high costs, lack of infrastructure and complexity in storage of hydrogen, this fuel-cell technology has not gained traction even though it emits only water vapor.  Fuel cells generate electricity by converting chemical energy. With these engines, around 55% emissions are less compared to combustion engines, making this a technology to rely on in the long run. Other car makers Toyota, BMW AG, Volkswagen AG are also considering fuel cell vehicles.
Google maps to be more EV driver friendly
Google maps is amplifying its app to show information about the nearest electric charging stations. This feature which was already present is now being enhanced to show more stations and information like how many charging ports are available, the speed of the ports, type of ports etc. Just by typing "ev charging " or "EV charging stations" one can get information about the nearest stations. So far electric vehicle drivers have been relying on the other third-party apps like PlugShare for such information.
MG Motor India's pure electric SUV by 2020
MG Motor India plans to roll out its all electric SUV by 2020. It plans to make the electric vehicle at its Halol plant in Gujarat. This wholly-owned arm of China's SAIC Motor Corp hopes to launch one new model in the country every year. It has long term plans in India and is investing USD 500 million by next year and has earmarked around Rs. 100 crore investments towards new office, brand store in Gurgaon. Around 1500 employees are expected to be hired by 2019.
Electric Three wheelers from Indian startup
Indian Startup Gayam Motor Works (GMW) was launched in 2011 focusing on Electric Auto-rickshaws with innovative battery-swapping technology. They have sold more than 5000 vehicles to over 15 countries worldwide. As a solution to the charging problem GMW has used swappable lithium-ion batteries and retained the battery ownership to reduce the vehicle price. Their vehicles are seeing wide applications from waste collection, disposal to making deliveries for BigBasket, Uber Eats, Gati, etc. With Autos relying heavily on oil and causing 50% carbon pollution, GMW plans to reduce India's burden by entering into the retail market. GMW is doing pilots with passenger vehicles.
Government of India selects CCS
The Indian Government has selected European based CCS (Combined Charging system) from a host of available charging protocols including Tesla Superpower, CHAdeMO, GB/T. While the adoption of e-vehicles in India has been sluggish owing to lack of charging infrastructure, the Ministry of Power seems to be awaiting funds from FAME scheme for roadmap of stations. People in the know say that Government is shifting its focus on electric two and three wheelers and looking at creating smart, standardized, swappable batteries for this segment as fast as possible.
Tradable Auto-emission coupons – Niti Aayog proposal
Indian government think tank Niti Aayog has floated a proposal to introduce auto emission coupons that the vehicle makers can redeem to avail incentives or subsidies. Encouraging electric vehicle (EV) manufacturing, these coupons will be credit based on sliding scale of efficiency and per kilometer carbon emissions. The government aims to incentivize energy efficient, low emission vehicles at the expense of low efficiency, high emission vehicles with this scheme. Other initiatives from Central and state governments to increase EV acceptance include road permit exemption, electric buses for public transportation, investment in EV, component, charging equipment manufacturing.
IITs – the destination for Auto majors
With Electric Vehicles becoming a major focus for most auto majors, IITs have become the go to places for their talent as well as technology hunt. Based on demand from industry, IIT Delhi is launching a new master's program on automotive and Electric Vehicles (EVs). IIT Mandi is working with many leading manufacturers on EVs for hills. IIT Madras along with a number of companies is researching on public EV transport system. Companies like Tata Motors are having partnerships with IIT Bombay, BITS-Pilani, NITs, etc. Besides this, automobile companies are also recruiting heavily from the IITs.
ABB to make electric-vehicle chargers in India
ABB the Swiss engineering company plans to set up facilities by end of this year in India to produce electric-vehicle chargers. Frank Muehlon, ABB's head for Global Business for Electric Vehicle Charging Infrastructure was not ready to disclose the investment details but mentioned that local production was needed to fulfill the requirements of the Indian market.  He also feels that e-mobility depends on how fast the OEMs can manufacture cars and on grid enforcement.  He predicts that around 2021-22, for mid-sized cars the prices of battery powered ones and those running on fossil fuel will become almost same.
An electric motorcycle with 150 kmph top speed
Ultraviolette Automotive Pvt Ltd, a Bangalore based startup backed by TVS Motor Co. plans to launch India's fastest e-bike 200-250 cc which can reach a top speed of 150 kmph. This surpasses the 138 kmph claimed by KTM Duke200, fastest 200cc motorcycle in India. Ultraviolette plans more testing on this close to production model to determine performance stats. It plans to have assembly facility early next year near Bengaluru and intends to set up network of charging points city-wise starting with Bengaluru.
Electric Vehicle supply glut in China?
By end of 2017, China had more than half the world's total vehicles running on fuel other than petrol. Thanks to the preferential policies and brute manufacturing power, the sector is now crowded with 100+ companies including battery manufacturers, renewable equipment makers, etc besides the established auto giants. Regulators are worried about the blind development and overcapacity and are afraid that the smaller start-ups would get a hit with subsidies cut. In the past China had to take action against price-sapping supply gluts and electric vehicles could be next in this regard. While National Development and Reform Commission (NDRC) has promised to keep a check on the crazy growth, these strategic supply gluts that the country has often relied on, seem to have helped in increasing competitiveness, and cutting down the costs.
Ford awaits approval on third partnership in China
With Territory SUV developed along with local partner Jiangling Motors Corp. and many SUVs in pipeline, Ford aims to capture the Chinese market. It also plans to launch a range of small electric cars in the country with Anhui Zotye Automobile Co. It also awaits the approval of its third partnership in the country by the year-end. Jim Farley, President Global Markets feels the significant downfall in Ford's sales in the second quarter is due to the lack of fresh product lineup and uncompetitive prices. It is notable that the trade war has already prompted luxury car makers to warn about low profits and Ford had mentioned about cancelling plans to import new crossover model from China to U.S. market.
BHP Boosts Sales of Nickel
BHP Billiton Ltd., world's biggest miner is increasing sales of top-quality nickel for the electric vehicle batteries. Moving away from the traditional stainless steel customer, BHP's Nickel West aims to sell 90% of its output to battery sector and is working on methods to make cobalt sulphate another important material in rechargeable batteries. However with subsidies cut to vehicles, MMC Norilsk Nickel PJSC, Russia's mining giant sees this EV related demand slowing down. Though the profits of Nickel West have increased, the future is not clear, and the producer is happy to have Nickel West for now.
Electric Cars not so green?
More and more car makers are switching towards electric cars to cut down on the green house gas emissions; however what lies beneath is the lithium-ion battery coming from the most polluting grids. These batteries are mostly made in places that heavily rely on non-renewable resources like coal for electricity. The findings of Berylls Strategy Advisors, an automotive consultancy show that a factory running on fossil fuels, building a 500 kg battery for a electric vehicle emits 74% more CO2 than building an efficient conventional car. However in places like Norway, which use hydropower for grids, the emissions from electric vehicles are 60% less over their lifetime compared to their counterparts. With demand for batteries rising, manufacturers are looking at sustainable ways such as solar power and other renewable sources for powering their factories.