Solar growth likely to boost in coming years
|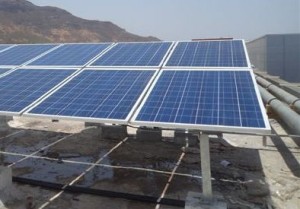 India's solar industry is expected to see better growth in the coming years, helped by rising energy demand and various other factors, as per report by Tata Strategic Management Group.
The solar sector however is faced by many bottlenecks such as a lack of a clear and consistent solar policy, the report said.
"… rising energy demand, increasing coal prices, increasing diesel prices and with grave energy security concerns Indian solar sector is poised to grow rapidly in the next five years," it said.

"The need of the hour is to focus on value added product and services, build R&D and testing facilities and develop trained manpower to support the growth of solar sector in India," the report said.
Tata Power Solar Systems, the solar energy unit of Tata has also increased its manufacturing capacity to 200 MW from 125 MW and will now be offering solar modules to domestic and overseas markets.
"The 60 percent capacity expansion will enable us to provide solar modules for increasing the share of renewable energy in the power sector and meet the increase in demand, thanks to pro-active policy steps such as domestic content requirement and anti-dumping duties," Tata Power Solar chief executive Ajay Goel said.
The Indian government had made it compulsory in October 2013 for private producers to source solar modules from domestic manufacturers up to 50 percent (372 MW) of the 750 MW grid-connected solar power projects, with a viability gap funding from the national clean energy fund.
A new body, Solar Energy Corporation of India (SECI) has been established that will now look after solar energy progress in the country. SECI will be purchasing the solar electricity generated at a fixed tariff of Rs.5.45 unit for 25 years and will sell it to DISCOMS at Rs.5.50 per unit for 25 years.
The government had also decided to impose anti-dumping duties ranging from 11-81 cents per watt on import of cheaper solar panels from countries like China, Taiwan, Malaysia and the US.
There are indications that the new BJP government under Modi will also continue the policy of giving preference to renewable energy technologies and cut down on nuclear.
"Nuclear projects are not likely to be on the radar of the Modi government, at least for the next two years. It will first focus on increasing coal production, allocation and pricing, apart from clearing the balance sheets of distribution companies," PwC executive director energy utilities Sambitosh Mohapatra told PTI.
You might be interested in in Solar PV system calculator. Calculate your solar system size  from here .