Renewables and the Larger Electricity Supply Eco System
|
Renewables are a part of the electricity delivery supply chain along with many other elements – non-renewable generating sources, transmission utilities, distribution utilities, consumers etc. What happens in the larger electricity eco-system has a direct bearing on Renewable Energy (RE) and its future in the country. Project success requires not only efficient generation but also the downstream transmission and distribution sectors to work well. Investors should evaluate upcoming opportunities on technical, commercial and regulatory aspects.

Generation
Notwithstanding the number of issues faced by the power sector, statistics on generation capacity have traditionally shown a rosy picture. Big announcements include 4,000 MW of solar thermal capacity in Rajasthan and 750 MW of solar capacity under the National Solar Mission.
Two more UMPPs (8,000 MW) in Orissa and Tamil Nadu, completion of the first unit of Koodanakulam nuclear plant (1,000 MW) as well as a number of smaller thermal power projects are also coming up.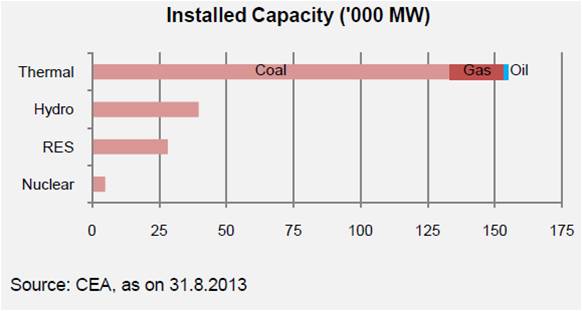 Fuel supply is a key factor for success of new thermal capacity. Electricity generation grew 4% [1]in FY12-13 despite a 28% drop in generation from gas plants. New capacity will increasingly depend on imported coal – imports are expected to grow more than 15% this year. It is also proposed to allocate all gas beyond 31 mmscmd (used for fertilizer) in the coming three years for gas power plants.
Investors will have to be provided tangible security of payments for them to be enthusiastic about investing such large sums in the power sector.
Many measures are being taken to mitigate the risk faced by investors. These include compensatory tariffs to address increase in fuel costs and a peaking power policy inviting gas power generators to bid for supplying power during peak hours. However, increase in fuel supply is expected to be the only long term solution. This in turn will require improvement in efficiency and rise in tariffs.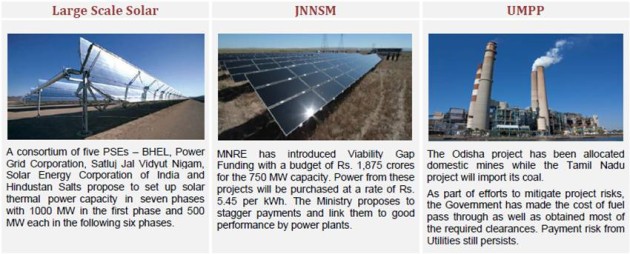 Transmission
The 12th Plan envisages 88,000 MW of additional capacity. This will require substantial investment in transmission infrastructure and supporting measures to ensure grid stability. A large part of the required investment is expected from Power Grid Corporation (PGCIL). The company expects to invest around Rs. 20,000 crores per year for the coming five years.
Key steps taken/to be taken;
Green Corridor for Renewable Energy: PGCIL is planning additional transmission capacity to enable supply of renewable energy. The project is expected to be spread across seven states in the next six years. Cost is estimated at Rs. 43,000 crore. Germany will provide technical and developmental assistance of €1 billion as soft credit.
Grid Discipline: The CERC is making efforts to address causes leading to the grid collapse experienced last year. Apart from curtailing supplies and imposing penalties for over-drawal, it also proposes to tighten the grid frequency band. It proposes a band of 49.7-50.2 Hz compared to the existing 49.5-50.2 Hz (this was 49.2-50.3 Hz before May 2010).  The Ministry of Power is also considering turning the Power System Corporation Limited (POSOCO) into an independent regulatory body. This is expected to prevent large scale grid failure and pave the way for private participation in the power transmission sector.Integration of the Southern grid with the National Grid: The southern grid is expected to be integrated with the national grid early in 2014. The southern grid is currently connected through a HVDC line whose capacity is well below requirement. PGCIL is linking the two grids with a 765 kV line between Solapur (Maharashtra) and Raichur (Karnataka). The integration is expected to boost grid stability besides providing relief to renewable energy generators currently constrained by limited infrastructure.
Ultra Mega Transmission Project: India's first UMTP was successfully commissioned by Sterlite Grid Limited in September 2013. The 231 km long transmission line named Purnia-Bihar Sharif, will provide connectivity between the hydro power plants of the North Eastern region and parts of Bihar and Northern India. Currently, Rs. 22,000 Crores of transmission projects in have been awarded or are up for bidding.  The Government is also undertaking transmission projects in the north-east. It proposes evacuation for 6,000 MW of capacity – two lines to evacuate 1,500 MW from north-east as well as Bhutan.
Distribution
Distribution continues to be the most challenging part of the supply chain. Discom losses are expected to cross 1.2% of GDP by March 2014. Both, technical as well as commercial aspects of the aggregate losses of discoms need to be addressed simultaneously.
Key steps taken/to be taken;
Restructuring of Discoms: Plans for financial restructuring of discoms in TN, UP, Rajasthan and Haryana are in progress while Jharkhand, Bihar, AP and Karnataka are next in line. The Government has also proposed a model State Electricity Distribution Responsibility Bill, modeled on the Financial Responsibility and Budget Management (FRBM) Bill. The bill proposes regular audits, annual financial filing and tariff revisions amongst other improvement parameters.
Separation of Feeder for Agricultural Consumers: The World Bank is evaluating Feeder Separation for agricultural consumers on behalf of the Government. Separation of feeders is expected to help address the problem of mounting aggregate technical and commercial losses in states including Gujarat, Rajasthan, Andhra Pradesh, Haryana, Punjab, Karnataka, Maharashtra and Madhya Pradesh.
Separation of Carriage and Content: The Government is evaluating separation of carriage (wire) and content (supply) components of distribution. While this is expected to improve efficiency by promoting competition, implementation is a long way off. Issues of cross subsidies, cherry picking of consumers and resistance from monopolies are expected. The Government also needs to amend the EA 2003 for the same. This initiative may be feasible in a few major cities on an experimental basis. PGCIL has already applied for a wire license in Orissa.
Finance
The Government is working to enhance investment in infrastructure by allowing more tax incentives on infrastructure bonds. Even the interest paid on borrowings for investment in specified tax-free infrastructure bonds would be allowed deductions.  Further, debt funding will be enhanced by promoting the corporate bond market and encouraging organizations like the Employee Provident Fund Organization to invest in infrastructure projects.  On the equity side, the Government is planning to create an Infrastructure Trust Fund wherein underlying revenues of projects would be transferred to a Trust which will issue units to interested buyers.
The Asian Development Bank (ADB) has agreed to extend a $700 million loan to IIFCL. This will support take out financing for infrastructure projects that need customized long term lending. The Bank has forecasted a requirement of $2.3 trillion investment in India's energy sector over the period 2010-2035 in its Energy Outlook for Asia Pacific.
Addressing bottlenecks to provide viable commercialization options
As has been seen in the last few months, large plans for solar power addition can come to a standstill if the power generated from them does not have a commercially viable outlet. While maximum attention is given to addition in Generation capacity, it is Transmission and Distribution that need urgent focus.
Investors in renewable energy look primarily to receiving stable, long term cash flows from their investments. RE projects need to run for their lifetime of 20-25 years for them to provide attractive ROI. Their success depends not only on good technology and maintenance but also on receiving payment in full and on time.
The capacity and health of the transmission and distribution sector is important to RE generators whether they supply to Discoms through long term PPAs or to third parties through Open Access.
Till the time these issues are addressed, Investors will have to be choosy about selecting new investment opportunities. They need to beware of technical, regulatory as well as commercial risks expected from RE projects and factor these in their business plans.
Disclaimer: This article is based on monthly newsletter of Agneya Carbon Ventures Private Limited. You can download the PDF version of article from here.
---
[1] Centre for Monitoring Indian Economy