Two Woodlizard Species named Enyalioides Discovered From Cordillera Azul National Park, Peru
|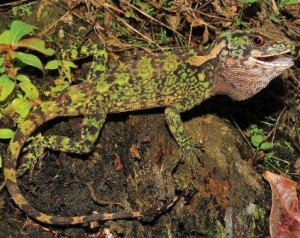 In a research led by lead author Dr Pablo Venegas from Centro de ornitologíay Biodiversidad (CORBIDI) in Lima, Peru, two new woodlizard species called Enyalioides were discovered from Cordillera Azul National Park. These two species were named Enyalioides azulae and Enyalioides binzayedi.
Enyalioides azulae is said to be from a locality in mountain rainforest of the Río Huallaga basin in northeastern Peru. This species was given the name based on the Spanish word- Azul which means blue. It referred to the Cordillera Azul National Park from where this species was explored.
Enyalioides binzayedi, on the other hand, was discovered from same river basin but was named after sponsor of the field survey Sheikh Mohamed bin Zayed Al Nahyan. He is the Crown Prince of Abu Dhabi and Deputy Supreme Commander of the UAE. He was the creator of Mohamed bin Zayed Species Conservation Fund (MBZSCF).
The two newly discovered lizard species have body with distinct green patterns before the black and dark brown background. The researchers assumed that the species have common territory with an only difference in the altitude ranges. This slight difference of the altitude ranges made their biological difference fascinating from the perspective of evolution.
The two lizards were discovered from Cordillera Azul National Park, which is the third largest national park in Peru. This area includes least explored forests in Peru. The river basins of Pauya and Pisqui in this National Park are said to be remarkable in terms of the diversity of amphibians and reptiles.
The fieldwork on Enyalioides increased recently with three out of ten known species described in past 5 years. New members of Enyalioides species were discovered during the expeditions on Andes' slopes which are said to be the parts of Ecuador and Peru. The success of the discovery suggested that there were other undiscovered lizards in these areas.
Read more at The National Center for Biotechnology Information
Image credit: Venegas P, Torres-Carvajal O, Duran V, Queiroz K, hosted at Wikipedia