Frick Environmental Center Achieves Prestigious Living Building Certification
|
The Frick Environmental Center (FEC) has achieved the world's most meticulous proven performance standard i.e. Living Building certification. This certification was given by the International Living Future Institute after FEC devoted more than a year to extensive testing and documentation. FEC is designed by famous architecture firm Bohlin Cywinski Jackson and is marked as the first Living Building in the U.S. that is totally open to the public as it's municipally owned.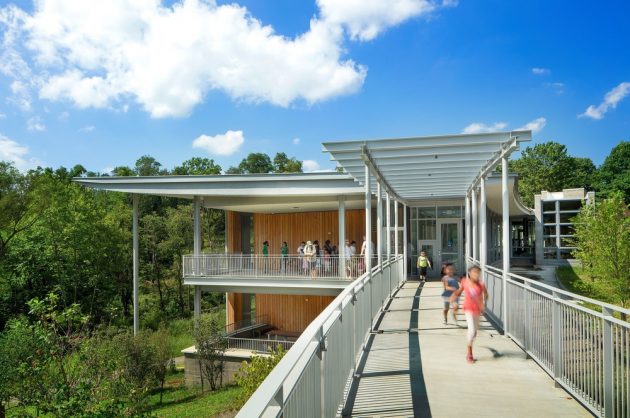 "The international recognition of the Frick Environmental Center is the perfect reflection of the deeply-rooted convictions shared by the City of Pittsburgh, the Parks Conservancy, and the entire construction and design team," said Patricia Culley, Bohlin Cywinski Jackson senior associate and FEC project architect.
The U.S. Green Building Council certified this 16,000-square-foot centre which was completed in 2016 as LEED Platinum in December 2017. Also in April, they received an Award of Excellence from AIA Committee on Education. For their phenomenal role in a decade long-vision of combining the world's highest sustainability standards into a public, free, municipally owned building, they were acknowledged with a Leadership Award by the Green Building Alliance last fall.
In order to bring the environmental centre to life, Bohlin collaborated with landscape architects LaQuatra Bonci, the Pittsburgh Parks Conservancy, the City of Pittsburgh, and construction manager PJ Dick. In 2011, this idea was given a platform via donations and community-based process, which allows students of all ages to participate in the environmental events, classes, and programs. It also encourages visitors to undergo the surrounding landscape by acting as a gateway to the 644-acre Frick Park.
Well, this is something very interesting that FEC is among those 21 buildings list that has achieved Living Building-certification. This certification is second certified in Pennsylvania and Pittsburgh, who shares the honour with the Phipps Center to sustain landscapes. The Phipps Center is the first building to join the Living Building Challenge designation under version 2.1. In order to qualify the certification criteria, the building must produce as much energy as it consumes in a year. Moreover, it removes various harmful chemicals and toxins that collect and treats its own water.
Bohlin Cywinski Jackson has worked in Pittsburgh for more than 40 years, and recently moved into a new office space in the historic Alcoa Building. They have designed a variety of projects in and around the city, including multiple academic buildings for Carnegie Mellon University, and several award-winning projects for the Western Pennsylvania Conservancy, including the adaptive reuse of the historic Barn at Fallingwater and the High Meadow Residences and Studio.
Image credits: Bohlin Cywinski Jackson via v2com