The Most Carbon Efficient Ways to Travel
|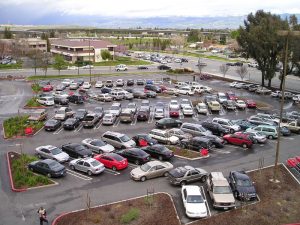 Global warming remains one of the most dangerous and prevalent issues in regards to our planet and our future as a society. Automobiles are renowned for being one of the worst culprits of emitting harmful emissions into our vulnerable atmosphere. The greenhouse gases, including carbon dioxide, that are emitted as a result of fuel consumption have devastating effects on the environment. Carbon dioxide remains in the atmosphere longer than other gases, so cars have a more harmful impact on climate change in the long term. But, what are the worst and cleanest ways to travel? Have you ever wondered how your carbon footprint grows depending on the journeys you make? Indigo Parking reveals all.
The Most Carbon Efficient Ways to Travel compares the most harmful modes of transport that have the most extreme effect on our environment alongside the more friendliest forms of transport, by measuring how much Carbon Dioxide (C02) is released into the atmosphere per person, per kilometre (km) of travel.
The most harmful ways to travel
Cars shouldn't receive all the bad stigma when it comes to fuel consumption and harmful emissions; nearly all modes of transport have a detrimental effect on the environment.
The piece reveals that a large RoPax Ferry is the worst and the most damaging way to travel. These roll-on-roll-off ferries have been designed to provide maximum efficiency and seamless transfer in loading cargo and passengers across waters, but these journeys have an alarming impact on the environment. A whopping 387.4g of C02 is belched out by the huge ferries per km, per person. The emissions are so high that a large RoPax Ferry has more harmful emissions than a first class long haul flight, which emits 322.3g of C02 per km, per passenger.
The 5 most harmful ways to travel:
Large RoPax Ferry- 387.4g C02 per km.
Long Haul Flight (First Class)- 322.3g C02 per km.
Large Petrol Car- 299.1g C02 per km
Large Diesel Van- 270.1g C02 per km.
Large LPG car- 269.8g C02 per km.
The cleanest ways to travel
According to their research, Indigo Parking reveals that manpower is the greenest way to get from A to B. A trusty bicycle has no emissions at all (0g C02 per person, per km).
It may come as a surprise that an Electric car (with solar panels) also has 0g of harmful C02 emissions. Will all electric cars soon have solar roofs? According to Toyota and Tesla, the future for transport is solar powered. Earlier this year, Panasonic announced an advanced solar panel system that will debut on the Toyota Prius plug-in hybrid in Japan, a.k.a the Prius Prime. As solar panels and electric vehicles get cheaper and more efficient, the potential of solar roofs across other forms of transport is likely to grow.
The 5 cleanest ways to travel:
Bicycle- 0g C02 per km.
Electric Car (with solar panels)- 0g C02 per km.
Electric Car- 12g C02 per km.
International Rail (Eurostar)- 15.1g C02 per km.
Ferry (foot passenger)- 19.3g C02 per km.
Public transport
Green travellers should opt to share the same vehicle, with the most promising forms of transport being public. The cleaner choices for the daily grind include a local London bus, with an average occupancy of 16.6, which emits 86.3g C02 per km. Other buses who work on local routes have C02 emissions per km of 185.9g and an average passenger count of 6.3.
Trains also take top spots in the stakes for the most carbon-efficient ways to travel. Manchester Metro Link (39.7g C02 per km per passenger), London Overground (51.3g C02 per km per passenger), National Rail (56.5g C02 per km per passenger) and Midlands Metro (71g C02 per km per passenger) are all cleaner modes of transport than automobiles.
The biggest shockers
One of the most shocking statistics that the Indigo Parking's piece reveals is that travelling a km on short haul flight in economy class, or a km on a car passenger ferry, is still better for the environment than travelling the same distance in a small petrol car. A small petrol car emits 171.1g of carbon dioxide into the atmosphere, whilst a short haul flight emits 91.4g C02 (per km, per person) and a car passenger ferry emits 133.2g of C02.
Why is your carbon footprint important?
The term 'footprint' refers to the impact we are each having on the Earth, including our input of greenhouse gases, specifically C02, into the atmosphere. Personal footprints can be measured to determine our own levels, and to highlight how we can control and strive to reduce our carbon output.
Author's bio:
Katheryn Watson
Visit Indigo Parking to find out more.
Image credit: