Srinagar as a Smart City- Involve, Evolve, Dissolve
|
Srinagar has been and is the jewel of the Kashmir valley in every respect. Right from the alleys downtown to the majestic Dal Lake banks, the city is a marvel. To revamp and redecorate it with luxurious buildings and arches of roadside parks would be a huge step towards ornamenting the already beautiful. Developing Srinagar as a smart city would indeed be a wise and thoughtful move. It needs concrete banks around rivers and lakes, maintenance of Mughal gardens from Nehru Park to Harwan, spacious parking lots, durably macadamized roads, interconnectivity of roads and link roads, flyovers at appropriate locations to bypass excess traffic, efficient traffic regulation system, subways and overhead bridges near educational institutions, proper methods of collecting and disposing various kinds of waste materials generated throughout the commercial nerve of the city and stringiest road safety protocols to avoid accidents. This vision of Srinagar is the fundamental aspect that can help it go through regular transformations to being a smart city for real.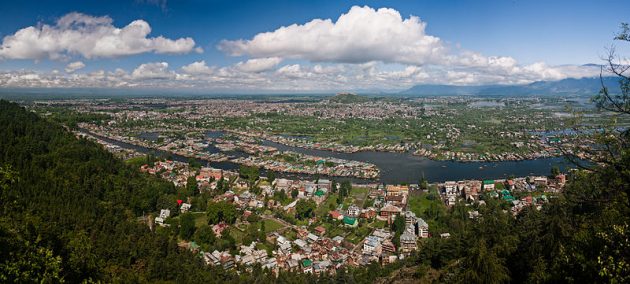 What makes Srinagar affordable as a smart city is the fact that it has connections to almost every other districts and states centre within the confines of its transport compound. The city as such is a backbone of commercialization, of trade and travel and of various food habits. Pertinently, these are the face of a well-distributed city, both in terms of wealth and environment. Therefore, this is the USP of Srinagar.
Being a responsible citizen, it is my duty to bring forth major drawbacks in Srinagar at present.
Major Loopholes That Need a Proper Fix
The public transportation system is not efficient enough to cater to passengers, old and young, alike. More than necessary persons are accommodated in a single minibus.
Sanitation in public lavatories is undependable.
Roadside vending is frequent and a hassle too.
Security for female passengers is lagging behind at present.
Inefficient traffic regulators i.e. many places have malfunctioning traffic lights.
Lackadaisical attitude towards building proper and safe roads leading to distress during winters.
Disorganized bus stops leading to increase in traffic jams.
Use of vehicles which are way past their expiration date for pollution checks.
Unavailability of public transport after dusk.
No parking space around the hub of major markets.
Increased pollution in and around Dal Lake, Jhelum and other water bodies around the city due to presence of houseboats, sewage outlets, construction of hotels and houses on the banks and irresponsible attitude of citizens towards the cleanliness of the same.
Encroachments along the water bodies, wetlands, tributaries etc.
Insufficient knowledge about hygiene and public health among the people.
The idea of Srinagar being developed as a smart city must take into consideration with redress of the above mentioned issues. It is imperative that we act on the prevailing problems first; then and only then can the future of the city be secured. The solutions are easy to adopt and adapt to. Whatever is lacking must be had and whatever is in excess must be curtailed.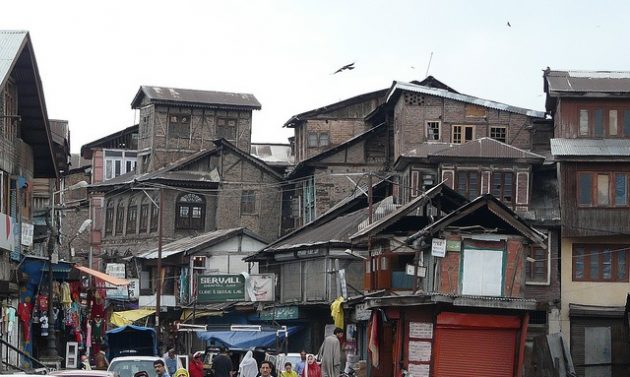 How Can Srinagar Arise as a Smart City?
Selfless action on part of SMC officials, workers and people alike to bring forth, report, indulge in the city and its restoration.
Comprehensive, result-oriented, time-bound plans to rejuvenate all water bodies.
Introducing and maintaining traffic lights at major and minor crossings.
Dustbins around the corner for each kind of waste.
Use of modernized, efficient, durable machinery and materials for constructing roads, flyovers, buildings etc. Proper cover provided over manholes.
Safety and comfort of passengers by introducing eco-friendly buses and other transport for all destinations. Encouraging water transport in Jhelum.
Undertaking the fabrication of parking lots in, around, under every commercial or government building.
Allotting transport even after twilight for areas with considerable number of passengers.
Building parking lots for public transport to bay when off road.
Making it mandatory for every vehicle to produce a pollution check certificate and that the private vehicles newly purchased have a space to park at home.
Reframing drainage in Shehr-e-Khaas (Old City; shown below) by way of covering all open drains.
Providing adequate places for vendors and disallowing construction along, in and near all water bodies.
Designating Shehr-e-Khaas as a site for Heritage tourism.
CCTV cameras should be installed along the main crossings, outside establishments and at police check posts to uncover any illegal activity both related to traffic as well as corruption. The recordings should be kept under the control of city planning officers.
Introduction of strict safety protocols for underage children (below 18) driving either two-wheelers or four-wheelers.
Development of sewage treatment plants and overseeing their utilization and working.
Introducing trauma centers, nursing schools, health clinics, fire stations around the city so that everyone has access to these during emergencies.
Going online and inviting complaints/advices/innovations from every citizen to make the city accommodating.
Grievance redressal system should be made duly functional in every department active in the city.
Greenfield Development
Some areas around the city have been left barren and unaccounted for. Those are the areas where Greenfield Development should take place. As Srinagar doesn't have a huge population living on the streets, these areas should be used for construction of complexes and apartments for those displaced due to road widening, water body protection, people with no standard income affected drastically during floods, and assembling recreation parks and health centers for children and adults.
Traffic Control and Security
Introduction of traffic security measures as the traffic lights in Kashmir was a bold step towards overcoming the disasters of unnecessary road blocks and accidents. This novel idea spread its wings almost a decade back when the officials decided to moderate the amount of traffic plying on every major crossing or junction of the city. Not only this, footpaths and short connection bridges also sprouted as a means of further strengthening the road force. This means greater but concise efforts of the common man in securing his safety. Greater in the sense that this system being new, the amount of precision and knowledge of its working should be better understood and concise because all you had to do after understanding is applying and maintaining it. There are no sweats after being completely comfortable with it.
At this moment, the public in Srinagar has begun to research about their rights and duties and how could they be useful individually in making this concept a success. Without further ado, every man, woman, child or elder developed inquisitive instinct towards this responsibility. This is what makes an idea flourish when people come forward and support it. Everyone in the city has learned about this system but that is not enough. Learning and applying are essential but more important is whether you have been given the right information. Though the educated lot displayed sheer confidence in this aspect of abiding by the rules but those who did not qualify this category maneuvered each effort of safety only to land themselves in a disorient. As we know, there are more people in the second category pertaining to Kashmir, so the difficulty is two-fold. Although this category may have crammed the Do's and Don'ts of this new idea of security but they really are naïve enough to disrupt the whole system.
Imbibing Knowledge about Traffic Security Regulations
Reduction in the amount of casualties due to road accidents is a big step towards development and to ensure this the traffic department of the city introduced budding approaches but on the same time failed to hold on to them. The need of the hour is communicating with almost every citizen of the city regarding safety rules and regulations. Of course door to door education is not an answer. Students and the educated lot of the city have a greater responsibility by inculcating in their families and relatives this concept of prevention against ignorance. On-air services like FM and government run programs that have a wider reach are also helpful in such scenarios.
Change is an important aspect of life and improvement in the standards we keep is necessary for a safe present and a better future. Relinquishing road blocks to freedom depends on how those obstacles are overcome and the best way to that is by abiding the rules of the road. So remember to STOP-WAIT-GO!!
Such a smart city encompasses every bit of necessity that a citizen requires for ease of travel, during emergencies or otherwise, during a shopping day out or for respite. This is an idea of Srinagar as a Smart City and can be equally well applied to any city in need of a long overdue makeover anywhere in India. In doing so we involve work from all departments and public alike, evolve our cities to be efficient in disposition, thus gradually dissolving our worries and apprehensions about sustaining future lives.
By
Adeela Hameed
Author Bio:
Adeela's hometown is Srinagar, Kashmir and she is currently pursuing Masters in Environmental Science from Amity University Noida. She graduated with Physics Honors from St. Stephen's College, Delhi University, India. Her work experience includes being Head Editor of Scribblers; an Indian content development agency, columnist for several regional newspapers and an Environmental Journalist for Kashmir Leader. She is a Reverent bookworm, an avid adventurer! You can contact her at adeelahameed1(at)gmail(dot)com and at LinkedIn